Open Front Spray Benches and Open Face Booths
When it comes to choice, few items can top the selection you'll receive when shopping for a small spray paint booth. Industrial open-face spray booths come in hundreds of different models, each offering a unique combination of widths, lengths, and work depths. This enables you to choose the right size for your particular application and set it up quickly and easily.
They're often provided in a modular kit that typically includes all components, fasteners, and sealants, as well as detailed instructions for installation. Bench spray booths and their larger cousin, the open-face paint booth, also offer a variety of additional customizations that enable you to extend the rear wall through booth extensions, maximizing your initial investment through an adjustable work depth that accommodates product size variances.
Produced by manufacturers that include Spray Booth Supplies, Global Finishing, Rohner USA, and Eagle Equipment, common sizes and specs include:
Sizes and Dimensions
Type
Size (Overall)
Work Area
Lights (4-Tub)
Fan (Horsepower/ Cubic-Feet-Per-Minute)
Estimated Price
Open-Front Bench
4' x 7' x 3.5'
4'x 7'x 1.5'
0 - 1
1.5 HP / 3,500 CFM
$1,600 - $2,200
Open-Front Bench
7'x 7' x 10'
7'x 7'x 6'
0 - 1
2 HP / 7,000 CFM
$2,500 - $3,300
Open-Face Booth
10' x 7' x 10'
10' x 7' x 7'
1-2
2 HP / 8,400 CFM
$3,000 - $5,000
Open-Face Booth
12' x 7' x 10'
12' x 7' x 7'
1-2
2 HP / 9,000 CFM
$3,500 - $6,000
Open-Face Booth
14' x 8' x 8'
14' x 8' x 5'
2
5 HP / 14,000 CFM
$5,600 - $6,700
Open-Face Booth
18' x 10' x 9'
18' x 10' x 5'
3
5 HP / 22,500 CFM
$6,500 - $10,000
Open-Face Booth
21' x 12' x 9'
20' x 12' x 5'
4
10 HP / 30,000 CFM
$10,000 - $12,200
Popular upgrades
Similar to an enclosed spray paint booth, most open-face models can be customized to accommodate an extensive array of manufacturing needs through upgrades that include: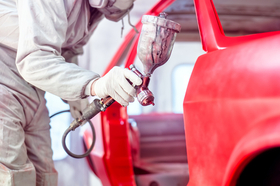 Filtered product doors
Pressurized supply plenums
Overhead conveyor slots
Part openings with vestibules
Conveyor system
Crane rails
Heated makeup air unit (MAU)
Galvanized or stainless steel flooring
Open-front vs. enclosed spray paint booths
Aside from the obvious difference - three walls as opposed to four - an open-face paint booth enables smaller operations to complete a variety of woodworking, painting, and similar finish-related tasks in areas with extremely limited space. Their design makes them ideal for large, heavy items like machine parts or bulky furniture, as the open-face permits easier access without having to move the entire piece into an enclosed space. Common industrial uses include:
Woodworking and cabinetry: sanding and finishing
Automotive manufacturing: small parts finishing
Automotive aftermarket: car and truck refinishing
From a budgetary point of view, these smaller options also save big on additional costs through a filtration system that removes dangerous particles from woodworking or painting projects with the cost-effective use of positive air pressure (more air flowing in than out). Air is pulled from the workspace into the exhaust plenum where it's filtered through paint arrestors, dry filters that trap airborne over spray or dust particles as the air makes its way through the exhaust stack. After it passes the filter, it's discharged back into the exterior work area.
This is in comparison to an enclosed booth employing the use of a downdraft airflow design - a process that often requires a pit below the booth, and an installation that could cost an additional $5,000 to $7,000 if you don't have a pit already in place. That said, certain spray finishing processes that use flammable or combustible materials may be required to work within an enclosed environment. These include:
Paint manufacturing: safety and containment
Chemical manufacturing: safety and containment
Pharmaceutical: "clean" room production lines
While open-face booths won't be right for every application, they provide a reliable workspace that is geared to comply with National Fire Protection Association (NFPA) guidelines and the National Electrical Code (NEC).
The downside? An industrial open-face spray booth is not a clean environment. Some users report problems with dust, which can mar a new finish and leave it looking rougher than the same treatment applied in an enclosed spray booth.
Find the best bench spray booth for your business in minutes by using BuyerZone's free quote request service. Just answer a few quick questions and we'll connect you with multiple qualified sellers in your area.
Ready to Compare Spray Paint Booths Price Quotes?