Industrial Spray Paint Booths for Large Equipment
From aircraft and earth moving equipment to large trucks, trailers, and RVs, large equipment paint booths provide a productive, controlled spray environment for an endless variety of outsized machinery. Available as either drive-in or conveyor-style production lines, they are typically custom designed to meet the exact needs of a particular manufacturing process due to the size of equipment they cater to.
Many large equipment booths incorporate a downdraft or semi-downdraft airflow design, as these styles have been shown to provide the ideal functionality and results for fleet and large equipment finishing. The most common downdraft paint booths engineered by top spray booth manufacturers like Col-Met, Global Finishing, Spray Systems Inc., and Rohner USA, are capable of providing airflow of 60 feet per minute or more and comply with all safety and health regulations enforced through the National Fire Protection Association (NFPA 33) and the Occupational Safety and Health Administration (OSHA 29 CFR 1910.107).
Industrial paint booths
Popular Sizes and Specs Include:
Type/Design
Width
Height
Length
Airflow (standard cubic feet per minute)
Access Doors
Fan (horsepower)
Estimated Cost
Light Duty Downdraft
16'
16'
26'
21,000 SCFM
1
7.5 HP
$18,000
Light Duty Downdraft
16'
16'
28'
23,000 SCFM
2
10 HP
$20,000
Light Duty Downdraft
16'
16'
30'
24,000 SCFM
1
10 HP
$26,000
Heavy Duty Downdraft
16'
16'
40'
32,000 SCFM
2
7.5 HP (x2)
$34,000
Heavy Duty Downdraft
16'
16'
50'
40,000 SCFM
3
7.5 HP (x2)
$40,000
Heavy Duty Downdraft
16'
16'
40'
48,000 SCFM
4
10 HP (x2)
$48,000
In addition to the design's compliance with NFPA and OSHA guidelines, there are often a number of additional regulations within localities. Many leading manufacturers subcontract local installers for professional installations. These individuals should be up-to-date on any additional mandates within your area. But the final responsibility for installation is yours. So check for any extra local building and fire codes before installing a large equipment booth, either in-house or through a third party.
Standard features and customizations
At this scale, customization is paramount. But it's not uncommon to find auto industrial paint booths and similar large-scale booths universally designed to support a makeup air unit (MAU), conveyors, crane rails, and an endless variety of product loads. Constructed from galvanized steel panels and heavy gauge cold-formed steel structure, many booths can also be pressurized through the addition of an upgraded supply fan or heated MAU, and all are capable of incorporating a number of product and personnel doors.
Customizable options include: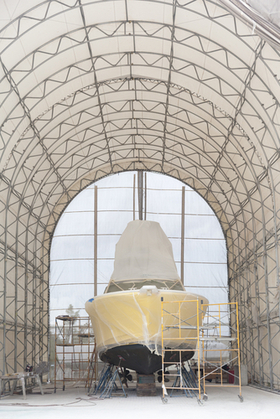 Size and configuration
Crane rail structure
Conveyor integration
Upgraded filtration
Actuated and/or roll-up product doors
Ventilation types
While a large variety of industrial painting equipment of this type is designed with downdraft airflow, some manufacturing processes or budgetary limitations require additional methods. Depending on your specification, airflow can be tailored for:
Crossdraft: Front to back, it's that simple. This airflow method emits air from the head of the booth on a horizontal plane and draws it into an exhaust fan at the back. This option enables customizations depending on the manufacturing process, with air that can enter the chamber either filtered, unfiltered, or pressurized.
Downdraft: Widely considered to be the best in terms of airflow for this size paint booth, downdraft is highly effective at controlling over spray and minimizing contamination. It works by expelling air from a ceiling intake plenum and drawing it into a filtered exhaust pit built into the floor.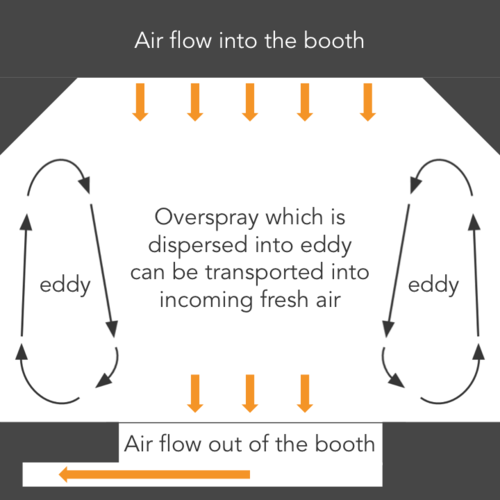 Semi-downdraft: Combining the functionalities of crossdraft and downdraft airflow design, a semi-downdraft emits air within the first 30% of the spray paint booth and then draws it through the space and into a filtered exhaust chamber at the rear of the booth.
Side-downdraft: One of the most economical options for those needing a large equipment spray booth (as it omits the need for a pit), this design uses a full-length ceiling plenum to blast air into the chamber and then pulls it out through exhaust plenums on either side of the booth.
Find the best large equipment spray booth, quickly and easily, by using BuyerZone's free quote request service. Just a few quick questions and we'll connect you with multiple qualified sellers in your area.
Ready to Compare Spray Paint Booths Price Quotes?