Used Spray Paint Booths Come with Hidden Costs
The decision between new or used spray paint booths can become complicated when looking at prices. But for some businesses, it can end up being a highly cost-effective tradeoff.
As with any industrial product, used booths sell for far less than their new counterparts. However, concerns about assembly, fan motors, and replacement parts could complicate matters down the line - especially when you consider that, in some cases, used booths are already 10 years old or older. So when comparing used models, costs associated with age-related repair and maintenance will have to be factored in.
Here are some of the primary issues to be aware of when shopping for a booth:
An Accurate Assessment of the Motors is Essential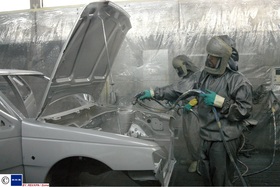 When shopping for a new or used spray paint booth, you have to make a clear assessment of the motor and its fans. The ventilation of a paint booth is one of its most important aspects. If you fail to identify issues with the motor or fans, your purchase will no longer be the deal you expected.
Assembling a spray paint booth is a complex operation.
Another major concern involves the state in which you purchase a booth. If it requires assembly, your team could end up with a very intense project on its hands. You would need the original, detailed plans in order to pull off the assembly. Should the screws not match the holes, for example, it would require precise drilling to get the booth into a usable condition.
Replacement Parts Can be Difficult to Find.
As with foreign auto repairs, buyers of used spray paint booths may find themselves out of luck if a replacement part is out of circulation. Locating a part can be time-consuming and, in some cases, outright impossible. Once that happens, you could get stuck with a machine that cannot be fixed.
Is the Cost Savings Worth it?
A used booth will involve heavy research from you and your team, especially when the warranty coverage has expired. But that legwork can often produce decent savings in terms of final cost.
For example, a small industrial spray paint booth starts around $1,000, with larger models that feature downdraft airflow design costing anywhere from $16,000 to $24,000. By comparison, a used spray paint booth can start as little as $8,000 to $10,000 for similar models, with high end models that feature air purification, heating, lighting and enough room to accommodate large vehicles starting at $20,000 and extending beyond $50,000.
While there are definitely a number of critical factors to take into account, used models may make a suitable solution for smaller operations with low-volume needs.
Ready to Compare Spray Paint Booths Price Quotes?