How to Find the Best Backhoe Dealers
Any backhoe loader dealer can sell you a backhoe - but are you getting the right machine for your needs? The best backhoe dealers are those that learn about your business before taking your money. They'll find out how and where you plan to use your backhoe, what applications you'll use it for, how much you need to lift, how deep you need to dig, and how much you can afford to spend.
Is a backhoe loader the right choice for you?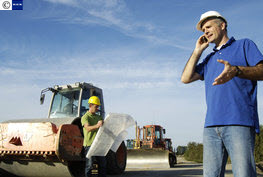 A backhoe loader is a diesel powered tractor with four wheels and an enclosed cab. A backhoe is mounted on the back of the vehicle, used primarily for digging, as well as moving and lifting heavy materials. A backhoe is also equipped with a front loader to push or scoop dirt or loose gravel.
A backhoe is a multifunctional machine that is not designed to perform one single task. For a heavy-duty construction job with deep digging, a large excavator may be preferred. A backhoe loader is recommended for small to medium jobs that require versatility in scooping, digging, and lifting.
Find the best backhoe dealer in 5 steps
If a backhoe is the right choice for you, use these handy tips to locate a dealer that will look out for your best interests instead of their own:
1. Do your homework.
Before you even think about researching dealers, you need to know exactly what you're looking for in backhoe machinery. This will help you to make an educated investment, instead of getting talked into a backhoe that you may not want or need. In this case, size does matter. If you need to operate your backhoe in tight spaces, a sub-compact backhoe with PTO of 0-20 is recommended; for larger areas in open spaces, a full-size backhoe will provide better power and performance.
2. Compare backhoe dealers.
To locate the best backhoe dealers, start by submitting a free request for backhoe loader quotes through BuyerZone or by performing your own online research. Then, talk to at least four to six backhoe dealers to become familiar with the products and services they offer and determine which one provides the best mix of quality, service, and cost.
3. Take a test drive.
Once you have a list of suppliers, have each of them send a backhoe to your location for a test drive. Take some time to really use the machine: two to four hours should be plenty of time to try out the vehicle in a familiar setting and test basic features, including both the loader and the backhoe ends. It's also a good idea to have your backhoe operators test it out for themselves: they may have particular concerns that you're not aware of.
4. Schedule a visit.
You don't necessarily need to test the vehicle at your location to select the best backhoe dealers. If the dealer is located nearby, arrange to visit his office. This allows you to try the backhoe yourself, check out other attachments you might need, and ask any questions you might have about performance. It's also a good opportunity to see how their staff interacts with other customers and view their showroom and parts inventory.
5. Consider buying used.
Most backhoe dealers will have new and used machinery available. If you want to save a significant chunk of change, buying used can be advantageous - if the backhoe is in good condition. Before buying used, inquire about a dealer's warranty. It's also critical to inspect the used machinery, checking for rust or signs of leakage. While a used backhoe will naturally show wear and tear, overused machinery should be avoided since it isn't worth the investment.
Additional characteristics of the best backhoe dealers
Offer a range of new and quality, used backhoe loaders.
Carry loaders from several manufacturers.
Willing to give a list of references.
Provide guarantees and estimates in writing.
Have experienced technicians on staff for repairs and maintenance.
Up front about delivery and maintenance costs.
If you don't have a truck large enough to transport a backhoe, a dealer that provides delivery can make or break your purchase decision. Delivering equipment promptly and in good condition is an important convenience for many farmers, landscapers, and construction bosses in need of quality machinery.
Ultimately, the best backhoe dealers are those that treat your business like a partner, learning what type of backhoe loader your company needs and finding you the appropriate match.
Ready to Compare Backhoe Loaders Price Quotes?