John Deere Backhoe Loaders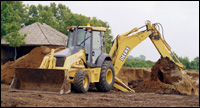 John Deere is a manufacturer of heavy machinery that has been in business for over 175 years. As a company, John Deere focuses on the agricultural industry, with current expansions in residential, commercial, construction, forestry, engines/drivetrain, and golf/sports machinery and equipment.
John Deere backhoe loaders: Then and now
In 2006, John Deere upgraded its two larger backhoe-loaders, the 410G and 710G, with low-effort pilot-hydraulic controls. The entire line was powered by Deere's wet-sleeve, Tier- 2-certified engines, although the 710G - the only backhoe-loader available with over 100 horsepower - was due for a repower before year's end to meet Tier-3 limits.
Number of models: 4

Product-line features:

John Deere adopted two different hydraulic-system approaches for its backhoe line, reserving open-center circuits for the 310G and 310SG, but offering the fuel efficiency of closed-center systems with radial piston pumps and low-effort pilot-hydraulic controls on the 410G and 710G.
In 2012, the K-Series of John Deere backhoe loaders was introduced, classified by dig depth: Models 310K EP, 310K, 310SK, 310 SK TC, and 315SK in the K-Series offer a dig depth at 14-15 feet; models 410K, 410K TC, and 710K in the K-Series offer a dig depth at 15 feet and over.
The new K-Series is designed to provide added versatility on a jobsite with better productivity and uptime to lower the daily cost of operation. John Deere product marketing manager Louann Hausner confirms, "Our customers are a diverse group that use backhoe loaders and tractor loaders for a variety of applications on the jobsite."
Furthermore, K-Series backhoe loaders are innovatively designed to meet current emission regulations in heavy machinery. Other enhancements include John Deere-exclusive Total Machine Control (TCM) updates with a redesigned joystick to ensure smooth, easy driver operation.
Number of models: 8

Product-line features:

Popular features of the K-Series backhoe loaders include the Interim Tier 4-emission certified engine, optional auto shifting, smooth five-speed shifting transmission, backhoe-to-excavator controls, improved HVAC efficiency, and a redesigned easy-clean cooling package.
Where to find John Deere backhoe loaders
Currently, the K-Series is the only line of backhoe loaders available for sale through local John Deere dealer networks. John Deere provides a dealer locating tool through their official website.
When purchasing a John Deere backhoe loader brand-new, an extended coverage warranty is available; warranty protection includes fixed machine repair costs throughout the life of the warranty. Although a John Deere extended warranty costs more above the initial machinery investment, it can offer added protection to reduce out-of-pocket expenses in both repair and maintenance.
However, customers should take care to choose their John Deere dealer wisely and read all warranty information in full before buying. When it comes to customer service ratings, John Deere was ranked poorly at 32.68 out of a possible score of 200. Some customers complained about repair coverage issues under warranty, mostly related to smaller lawn and garden vehicles purchased at third-party retail stores, such as Home Depot.
Ready to Compare Backhoe Loaders Price Quotes?