Caterpillar Backhoe Loader Review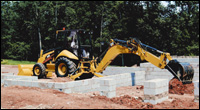 Caterpillar Inc. is a revolutionary global manufacturer of construction and mining machinery. Caterpillar brands include the primary brand Cat, as well as Perkins and Cat Financial. Caterpillar Inc. has been in business for more than 85 years, boasting an impressive $60 billion in revenue in 2011.
Cat backhoe loader E-Series
Caterpillar's E-Series backhoe loaders have the industry's first factory-installed electronics to support an automatic grade-reference system.
The AccuGrade BHL Site Reference System adds position sensors to the backhoe's hydraulic cylinders and an inclinometer, which allow it to determine the position of the bucket relative to a known reference point, such as a grade stake, on the site.
Number of models: 3

Models: 416E, 420E, and 430E

Product-line features:
Cat redesigned the frames, booms, sticks, and axles for the E Series and switched to an exterior-sliding extendable dipper stick. A new flow-sharing hydraulic valve meters oil evenly to all functions even when using several at the same time. Most backhoe forces increased 10% on the 420E and 430E.
Cat backhoe loader F-Series
In 2012, Cat introduced three new F-Series backhoe loaders to the market: 416F, 420F, and 430F. These are center-pivot machines that have design improvements beyond the basic E-Series, offering greater operator convenience, durability, performance, and serviceability.An upgrade in the F-Series was needed to ensure that all backhoe loaders complied with EPA emission standards.
Another notable feature in the F-Series not found in the E-Series is the four-speed Power Shuttle transmission. Compared to the previous E- Series, the F-Series has also been redesigned with new loader arms to improve maximum dump height by up to 3%. Overall lift capacity has been improved by up to 15%.
Operators used to the E-Series backhoe loaders will appreciate the F-Series flexibility of both directional and range shifting on-the-go, without compromising the reach of the excavator-style boom. F-Series backhoe loaders are compatible with multiple attachments, including angle brooms, augers, cold planers, coral buckets, ditch cleaning buckets, hammers, material handling arms, and much more.
Number of models: 3

New models: 416F, 420F, and 430F

Product-line features:
F-Series backhoe loaders offer features like a spacious cab, thumb-operated joystick controls, quick-change integrated Toolcarrier, powerful hydraulic system, increased 25 mph travel speed, full selection of backhoe attachments, and smoother ride performance.
Cat backhoe loader recognition
Customers considering a Cat backhoe loader can rest assured that their money will be well-spent. Cat F-Series backhoe loaders were voted as one of the Top 50 Most Innovative Products of 2012 by Equipment Today and ForConstructionPros.com. Readers voted online to name the Cat F-Series as the highest rated vehicle line manufactured among all Cat machinery.
According to ForConstructionPros.com, "The Cat F Series strives to balance backhoe-loader emissions costs with efficiency from computer controls, productivity from redesigned loader arms, and durability."
Ready to Compare Backhoe Loaders Price Quotes?