JCB Backhoe Loaders Innovations and Updates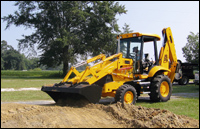 JCB, established in 1945, is the third largest manufacturer of heavy equipment in the world. JCB provides machinery for construction, agriculture, compaction, industrial, and waste/recycling industries.
JCB has the claim to fame of inventing the backhoe loader in 1954. JCB backhoe loaders are considered construction machinery, used alongside other construction vehicles like compact track loaders, excavators, articulated dump trucks, mini excavators, rough terrain forklifts, and more.
New advancements in JCB backhoe loaders
JCB refreshed its backhoe line's control system in 2006 when it introduced JCB engines. One touch of a button activates JCB's pilot-hydraulic Precision Control System and an LED indicator confirms that the controls are active. Joystick control pods are mounted to the seat and can function even if the seat is not facing directly to the rear. JCB cleared the floor by moving the extendable-stick control to a switch on the right joystick, and the hammer-circuit control to a switch on the left joystick.
Number of models: 7

New models: 214, 214S, 215, 215S, 217, 217S

Product-line features:

The JCB 444 four-cylinder, turbo-diesel has four valves per cylinder and direct fuel injection. The aspirated air cleaner uses fan suction to pull heavy debris from the intake, which JCB claims improves cleaning performance by 30% compared to the previous precleaner.
Today's line of JCB backhoe loaders has been further updated to improve operator control; all models are equipped with standard Hydraulic Speed Control. These heavy-duty pieces of machinery boast a maximum dig depth ranging from 8'4" in the smallest model, up to 17'7". Lightweight models within the new product line, such as the 1CX, also have the capacity to turn within their own length for operation in a small or confined space.
JCB backhoe loaders are designed with the quietest cab in the industry at 72 dB to further enhance operator comfort. This protective enclosure helps to minimize noise from the heavy-duty turbo diesel engine when used in day-to-day operation.
Number of models: 10

New models: 1CX, 2CX12, 3CX 14, 3CX 14 Super, 3CX 15 Super, 3CX 17 Super, 4CX 14 Super, 4CX 15 Super, 4CX 17 Super, MIDI CX

Product-line features:

Standout features of the current JCB backhoe loader line include a new variable displacement pump that offers 6% fuel savings, zero exhaust after-treatment to improve visibility, up to 6% more torque for greater traction and performance, and more efficient electronic engines to offer another 5% in fuel savings.
JCB backhoe loader warranty
In addition to inventing the backhoe loader, JCB boasts "The Industry's Best Warranty" on all equipment. What does this high-quality warranty entail? JCB provides a two-year warranty, as well as a three-year structural warranty, with complete coverage for the full JCB machine range. The first year of warranty coverage offers unlimited hours; the second year provides coverage for up to 2000 hours.
Ready to Compare Backhoe Loaders Price Quotes?