New Holland Backhoe Loaders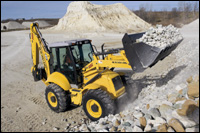 New Holland is separated into two brands: New Holland Construction and New Holland Agriculture. Established in 1895, New Holland specializes in a wide range of construction and agricultural machinery, including the ever-popular backhoe loader. New Holland also provides discount prices on used equipment - ranging from light to heavy duty construction machinery, as well as attachments.
Precision swing, pistol grip improve control
With the introduction of the new B-Series backhoe loaders in 2006, New Holland enhanced its pilot-control option with Precision Swing Control. Backhoe boom strength was increased, even as its profile was narrowed to improve the operator's view to the trench. A new pistol-grip controller for the loader's four-in-one bucket improved control. A proportional-flow rocker switch on the handle controlled the four-in-one jaw. Air conditioning was upgraded to provide up to 25% more air flow.
Number of models: 4

New models: B95, B95LR, B110, B115

Product-line features:

The B95 has the best loader-bucket breakout force among 14-footers, and only Caterpillar's 420E generates more stick-digging force. The B95's backhoe also outreaches most 14-footers at maximum dump height. The B95LR is the base B95 with the longer stick off the B110, making it a fuel-efficient 15-footer. Both B95 derivatives offer bucket breakout force improved by 8%.
Today, New Holland has made even more upgrades and improvements to the current B-Series backhoe loader lineup: B90B, B95B, B95B TC, B95B LR, B110B, and B115B. According to New Holland, B-Series backhoe loader design is based on "superior power, performance, and serviceability."
New Holland Construction marketing manager Dave December confirms, "With a choice of six distinct loader backhoe models - and a variety of new features - these machines deliver the power and torque needed to get any digging, loading, trenching or pushing job done faster."
More specifically, B-Series backhoe loaders are designed to out-perform other backhoes on the market in every aspect of the digging cycle. When combined with enhanced lifting strength and breakout force, these new features and innovations can be used to improve daily productivity on a jobsite. December adds that the increased dump reach in the B-Series line allows for faster loading of materials.
Number of models: 6

New models: B90B, B95B, B95B TC, B95B LR, B110B, B115B

Product-line features:

Updated B-Series backhoe loader features include better lifting performance, more convenient serviceability in a flip lid design, HASR/SAHR brakes, two transmission options to meet unique operator needs, enhanced cab comfort and visibility, and a curved-boom to reduce transport height while improving digging power.
New Holland B-Series backhoe loader attachments
Last but not least, it's important not to overlook the convenience and benefit of multiple available attachments for the B-Series lineup. B-Series backhoe loaders are compatible with heavy-duty attachments like forks, brooms, augers, rakes, and hydraulic hammers. Attachments can be connected quickly and easily using either an electro-hydraulic quick coupler or a mechanical quick-attach system.
Ready to Compare Backhoe Loaders Price Quotes?