Terex Backhoe Loaders: Features and Innovations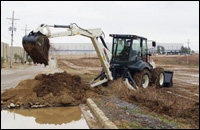 Terex Construction is a global manufacturer of construction, mining, infrastructure, quarrying, transportation, shipping, refining, energy, utility, and manufacturing equipment. Terex Corporation is divided into five different sectors: Cranes, Construction, Aerial Work Platforms, Material Handling and Port Solutions, and Materials Processing.
Terex backhoe loaders fall into the category of Terex construction equipment. Machines are built with power, reliability, and efficiency as a top priority.
Terex backhoe loaders designed for efficient versatility
In 2005, Terex introduced the TX970B with all-wheel steer, four equal-sized tires, and a 15-foot backhoe at Conexpo. Shortly thereafter, Terex announced that pilot hydraulic controls would be standard on the TX970B and optional on the TX760B, TX860B and TX870B.
Number of models: 4

New models: TX970B

Product-line features:

The Terex hydraulic design is unconventional, charging a closed-center system with a pair of gear pumps (most closed-center systems use a variable-displacement piston pump). A pressure-compensating valve senses the load in each circuit and automatically shuts down one pump when demand for hydraulic oil drops sufficiently.
Today, the latest Terex backhoe loader lineup is classified as either Center Mount or Sideshift loaders. Center Mount backhoe loaders include TLB840 and TX760B; they function as "powerful workhorses" that offer a maximum dig depth of 18'1"-19'3". Sideshift backhoe loader models include the 970 Elite, 980 Elite, TLB840, and TLB890; sideshift loader dig depth ranges from 17'8"-18'11". However, not all models are available in the US.
Advancements in the latest lineup of Terex backhoe loaders are focused specifically on reducing driver fatigue to improve jobsite safety, supporting productivity for economical operation, and enhancing driver comfort in daily use.
Number of models: 6

New models: TLB840, TX760B, 970 Elite, 980 Elite, TLB840, TLB890 (only select models available in the US)

Product-line features:

New Terex backhoe loader models stand out in that they provide an impressive 19 inches of ground clearance for greater maneuverability on a jobsite. Updated features include improved bucket breakout force and lift capacity to support productivity; loader design focuses on maximum operator comfort with a lumbar-supported suspension seat and ergonomically designed controls.
Terex backhoe loader attachments
The functionality of a backhoe loader wouldn't be complete without a wide selection of attachments to choose from. Available Terex backhoe loader attachments include loader buckets, high-tip buckets, broom buckets, hydraulic breakers, augers, loader/excavator quick attach, pallet forks, snow plows, and much more.
Terex backhoe attachments are primarily designed to extend the versatility of a machine. All attachments are factory-approved and can boost performance and productivity when used with a backhoe loader. For added convenience, Terex backhoe loader attachments are designed to connect quickly and easily, made with long-lasting materials.
Ready to Compare Backhoe Loaders Price Quotes?