Volvo Backhoe Loaders are Focused on Customer Satisfaction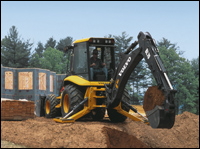 Volvo Construction Equipment is one of the largest manufacturers of construction machinery in the world. Volvo CE offers a complete product range, including backhoe loaders, mini excavators, scraper haulers, milling equipment, wheeled excavators, waste handlers, compactors, and skid steers.
Volvo backhoe loaders boast customer-driven design
In 2006, Volvo made pilot hydraulic controls standard equipment on the BL70, with mechanical controls available as an option. A new loader-control joystick featured a proportional switch for auxiliary hydraulic control. The standard loader featured a center-mounted bucket cylinder, as well as a new tool carrier option for the loader, featuring parallel lift and a hydraulic quick coupler for changing attachments.
Number of models: 2

New models: BL60

Product-line features:

Volvo uses open-center hydraulics with a gear pump on the BL60 and a closed-center system on the BL70.
Today, Volvo has shed new light on the saying, "The customer is always right." Volvo backhoe loaders are now constructed with "customer-driven design", as well as power and reliability. According to one customer, "I like the breakout power on the Volvo backhoes. I like the all-around strength of the hydraulics. The hydraulics are responsive and they're fast."
Updated Volvo backhoe loader models include the BL60B and BL70B. At face value, Volvo backhoe loaders are designed to load, trench, lift, crane, and handle heavy materials. Backhoe loaders have been redesigned to feature an even more spacious cab with improved driver visibility and ergonomic comfort, coupled with high-performance lifting, digging, and trenching features.
Since 2006, hydraulic controls have been expanded to include a combined auxiliary hydraulic circuit, which supports single or double-acting attachments. Backhoe loaders are further equipped with hydraulic flow adjustment in multiple incremental settings to better handle machine attachments.
Number of models: 2

New models: BL60B, BL70B

Product-line features:

Breakout features of the new Volvo backhoe loader line include better maintenance access via a one-piece tilting hood, CareTrack telematics to reduce fuel costs, stronger loading performance with better lift and breakout force, and an expanded toolbox design.
Volvo backhoe loaders: Economical, affordable construction machinery
Volvo has continued to cater to customer demand for lower cost machinery, in light of the recent economic downturn. Construction customers confirm that, "Volvo equipment has definitely helped with our growth. The machines help us get more work done faster."
With cost control being a top priority on construction jobsites, many customers appreciate the fact that both operation and training can be achieved using the same Volvo equipment. This one-two punch allows construction businesses to keep costs low by using one piece of machinery, such as a backhoe loader, for multiple purposes on-the-job.
For many customers, purchasing an affordable yet versatile Volvo backhoe loader to perform several tasks instead of buying or leasing separate equipment for each job is worth its weight in gold.
Ready to Compare Backhoe Loaders Price Quotes?