Cat Skid Steer Loaders: B-Series Specs and Pricing
Caterpillar skid steer loaders have a reputation for endurance and performance. The company's B-Series 3 models have become the industry standard for light to heavy workloads, no matter how difficult the conditions.
From the 216B to the 252B, you have a range of 47-71 hp and operating weights from 5600 pounds to 7800 pounds. If you are ready to invest in a new loader for your business, here are the four features to note in the Cat B-Series 3 models.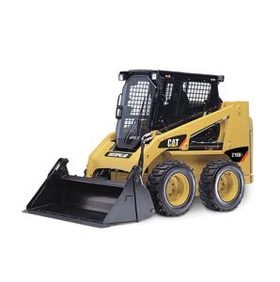 Comfort in the work station. An operator station that isn't designed for comfort can lead to employee fatigue. It's not easy to load heavy materials in grueling conditions. The B-Series 3 Cat skid steer loaders offer operators shoulder and leg room, hot and cool air conditioning, and suspension seat options. As for operation, your team will get used to the panoramic view and the joystick control that is amazingly low-impact.
Exceptional performance in the power train. Formidable engines are a signature of Cat loading vehicles, and B-Series 3 engines are stocked with horsepower and torque. Hand and foot throttle control allow your team to operate at the speed and power necessary - not a notch more. This level of performance ensures that fuel is not wasted. For as much power and reliability as you get, there are no wasted materials, keeping your operation running efficiently.
Hydraulic systems worthy of the toughest conditions. Cat hydraulics are an elemental feature of these skid steer loaders. Tilt, wheel power, and loader lift are all generated by this reliable system that is not based on belts. If you prefer the high-flow hydraulics, this option is available on the 226B and 242B models. Of course, the hydraulics depend on an advanced cooling system. In the case of the B-Series 3, a cooling package and fan run by the hydraulics guarantee the system will be running without overheating.
Versatility with the tools of your trade. The Cat skid steer loaders being discussed here provide you with options for a variety of jobs. Add backhoes, augers, forks, brooms, landscape rakes, stump grinders, trenchers, and a number of other tools. If you have a mind to take on new projects but were worried about the equipment, take a look at the flexibility of this series of loaders. You may have your answer.
The detailed spec sheet of the B-Series 3 loaders should provide operation managers and owners all the information you need to decide on a Cat model. When you're looking for maximum performance, these machines are worthy of the investment.
Ready to Compare Skid Steer Loaders Price Quotes?