Mini Skid-Steer Loaders are Compact but Powerful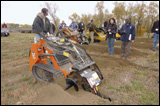 The Thomas 35DT begins its first trenching run as Thomas' Michael Twumasi-Boateng and CE's Katie Weiler start their watches.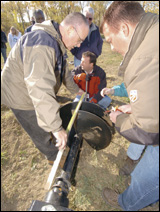 Setting up the augers for the evaluation took far longer than actually boring the holes. We were impressed with the power the mini-skids demonstrated in handling these big tools.
Local 150 instructor/ technicians, Rick Bewsey, left, and Jim Yasko, check the high-idle and auxiliary-hydraulic pressure specifications on the Ditch Witch SK650.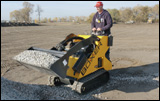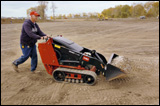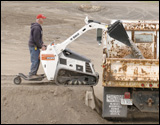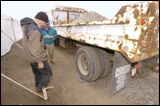 In the load-and-carry evaluation, the machines loaded from a stockpile of crushed limestone that weighed 2,600 pounds per cubic yard (Boxer 237), carried the load approximately 125 feet (Toro Dingo TX 425), ending at the top of a ramp and dumping into a single-axle truck (Bobcat MT55).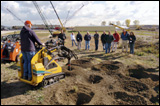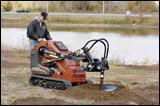 Boring Performance AveragesAverage time to sink a 36-inch-deep bore with a standard-bit, 30-inch-diameter auger: 50.2 sec.
We asked the editorial staff of Construction Equipment to join us here on a sunny fall day in Illinois to provide potential buyers a close look at what CE's staff considers a respectable yet often overlooked equipment category: rubber-tracked mini skid-steer loaders.
Known for taking a backseat to its slightly bigger brother, mini skid-steer loaders provide a little less weight capacity but are just as effective with add-on tools, accommodating a broad selection of attachments, including:
Augers
Backfill blades
Backhoes
Cold planers
Concrete-mixing
Grapple forks
Ground-conditioning
Hydraulic breakers

Pallet forks
Rippers
Rotary brooms
Stump grinders
Snow throwers
Specialty buckets
Trenchers
Vibratory plows
Sometimes known among dealers as compact utility loaders or compact tool carriers, the ability to perform a wide range of earth-moving and landscaping tasks is what makes mini skid-steers such a valuable addition to construction companies, landscaping crews, and businesses alike. Plus, the compact size and relative affordability of the mini-skid provide an even greater overall value for a wide range of consumers.
But which one is best?
The answer to that question is largely personal, determined by your unique industry and specific business needs. But to provide a little extra insight, we invited seven manufacturers - Bobcat, Compact Power (Boxer), Toro (Dingo), Ditch Witch, Leon's Manufacturing (Ramrod), Thomas, and Vermeer - to bring their largest mini to our 80-acre test course and show us how they stack up.
To demonstrate how the mini-skid might handle each of the wide range of available attachments would be nothing less than epic, and therefore impractical. So we selected three basic tools for evaluation, a standard dirt bucket, a 24-inch trencher, and a 30-inch-diameter auger.
At the end of the day, we looked at the numbers for individual machine performance and concluded, in fairness to all concerned, including potential buyers, that the production samples were too small to use as a basis for confidently projecting a specific machine's capabilities in a given application. However, without mangling the laws of statistics (too seriously), we were able to legitimately average the samples to project typical performance for the group as a whole.
And here's what we found out:
Mini skid-steer fuel efficiency and performance
The seven manufacturers at our event currently offer 34 different models of mini-skids, including those with tracks and wheels. Most are diesel-powered with liquid-cooled engines, and have been shown to run with surprisingly generous auxiliary flows and pressures.
The basic design is similar to that of a conventional skid-steer loader in that the engine is essentially a means for driving hydraulic pumps. The pumps, in turn, create the oil flow to perform several functions:
Turn the hydraulic drive motors at the sprockets, which power the tracks
Activate the boom and bucket cylinders
Power hydraulically driven attachments (such as trenchers and augers) via an auxiliary-hydraulic system
Among the seven units on our site, six were diesel-powered, five had an integral ride-on platform, one used an optional trailing platform and one was a walk-behind. We were impressed with the different approaches manufacturers have taken in the design of their machines - especially in the areas of hydraulics, controls, and undercarriage configuration.
Hydraulic-flow rates in the auxiliary circuits of the machines we had on site ranged from 11.2 to 14 gpm, and relief pressures were between 2,900 and 3,000 psi. This combination of flow and pressure produce considerable hydraulic horsepower, providing the capacity to competently handle an increasing array of powered attachments that quickly snap on and off via a cam-type or "universal-type" coupler.
We were impressed with the capability of the auxiliary-hydraulic systems, rivaling those of small, conventional skid-steer loaders. When we saw the 30-inch-diameter augers that manufacturers brought to the event, our first thought was that these small units would struggle with the large tools. Not so! Every one of the machines capably handled the assignment.
Mini skid-steer costs
The models tested are now a few years old. As such, list prices with a bucket currently range from $11,000 to $20,000. Newer models can cost anywhere from $22,000 to $56,000, depending on the machine and attachments included. It's also worth noting that a large number of models currently fall in the $30,000 to $40,000 range.
Naturally, your total investment will vary with the specific attachments you choose. But we think an investment in a rubber-tracked mini skid-steer loader may pay noticeable dividends to your operation if you routinely perform a wide range of utility chores - especially in confined or weight-sensitive work areas.
Load-and-Carry Performance Averages
Bucket Size (cu. ft.)
Bucket Fill Ratio (%)*
Cycle Time (min.)
Production Rate (cu. yd./hr.)
4.5
93.3
1.7
5.5
* Percentage of bucket's heaped capacity utilized
Trenching Performance Averages *
Trench Length (ft.)
Trench Depth (in.)
Trench Width (in.)
Trenching Time (min./20 ft.)
Production Rate** (ft./hr.)
20
25.3
5.9
6.1
197
*All numbers reported, except Trench Length and Production Rate, are averages calculated from actual test samples **Linear feet per hour based on average depth of 25.3 inches and width of 5.9 inches.
Ready to Compare Skid Steer Loaders Price Quotes?