How to Find the Best Skid Steer Loader Dealers
The best skid steer loader dealers are the ones that take the time to learn about your business. And it's a service aspect that quickly separates the great from the good. Typically specializing in skid steers and related earth-moving equipment, a quality dealer will start by finding out things like:
Where you plan to use your skid steer
What applications you'll use it for
How much weight and what size objects you need it to lift
How much you can afford to spend
To locate the best skid steer loader dealers, start by submitting a free request for quotes through BuyerZone or by performing your own online research. Then, talk to at least 4 to 6 dealers to become familiar with the products and services they offer. Focus your attention on extensiveness of service, track record and rentals.
Skid steer dealer service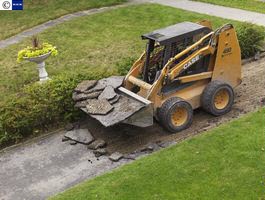 Large industrial equipment needs regular maintenance to run efficiently. Avoid costly breakdowns and repairs by asking prospective dealers about their service policies. Find out how they handle breakdowns. Do they come to you for quick repairs? If your loader needs to go into the shop for more extensive work, will they pick it up and return it? Or do you need to transport it yourself?
Because of these routine service needs, it's a good idea to choose a dealer located reasonably close to you (no further than 150 miles away). This proximity will keep travel costs low and also ensure the dealer has experience with the climatic rigors and resulting wear and tear on machinery associated with your geographic area.
History, track record, and the all-important test drive
Many construction equipment dealers have worked in the industry for decades. Some haven't. Finding an outfit that's been in business for a while is usually a good indication they'll be in business for years to come. This continuity speaks to the service they've presumably provided over the years and also indicates they'll be able to support your purchase.
Once you have a list of suppliers, have each of them send a skid steer to your location for a test drive. Take some time to really use the loader - 2 to 4 hours should be plenty to try out the vehicle in a familiar setting and test basic features as well as multiple attachments (if you plan to buy more than just a basic scoop). It's also a good idea to have your skid steer operators test it out for themselves as they may have particular concerns you're not aware of.
But you don't necessarily need to test the vehicle at your location to select the best skid steer loader dealers. If the dealer is located nearby, arrange to visit the office. This allows you to try the skid steer yourself, check out other attachments you might need, and ask any questions you might have about performance.
Rent skid steer loaders and skid steer attachments
Not sure which skid steer is right for you? Dealers who do considerable skid steer business may also offer a number of models for long-term or short-term rental. This gives you the opportunity to try a number of different models before purchase and decide which one is best suited to your line of business or current needs.
Another benefit found in larger dealerships is that they often have a decent selection of used models taken in on trade. Often refurbished and sold with a guarantee, these used models are typically rated according to the number of service hours they've logged and can provide an excellent solution for those who need a skid steer for part-time use or less.
In addition, these dealers are also likely to have a wider variety of attachments in stock and may even be willing to rent them to you. This relationship comes in handy when you need something like the occasional hydraulic hammer once or twice a year. Paying $10,000 to buy one is a waste. So favor the skid steer dealers with a good selection of rental options when making your purchase decision.
Find the skid steer dealer that's right for you
Ultimately, the best skid steer dealers are those that treat your business like a partner, one that takes the time to learn what type of machine your company needs and find you the appropriate match.
Quality skid steer dealers are also known to:
Offer a range of new and quality used skid steer loaders
Carry loaders from several manufacturers
Provide a list of references, ideally with some in your industry
Keep up with OSHA requirements for skid steer operation
Provide all guarantees and estimates in writing, as well as delivery and maintenance costs
Ready to Compare Skid Steer Loaders Price Quotes?