John Deere: Not Just for Tractors Anymore
John Deere, a top brand in a wide variety of equipment categories, extends its expertise into the skid steer market. A John Deere skid steer loader can be an effective solution for a range of business needs, for tasks ranging from agriculture to moving earth to handling other materials.
Contractors, farmers, and property managers who are responsible for maintaining large grounds all reportedly love the skid steer models John Deere offers. The John Deere 300 series features a range of loaders with different weight handling and payload capacities. These compact and versatile machines help with all sorts of tasks related to commercial or residential maintenance, construction, renovations, landscaping, and many other jobs that smaller operations typically handle. There are also specialized models available for different types of jobs that help meet the specific objectives of your business.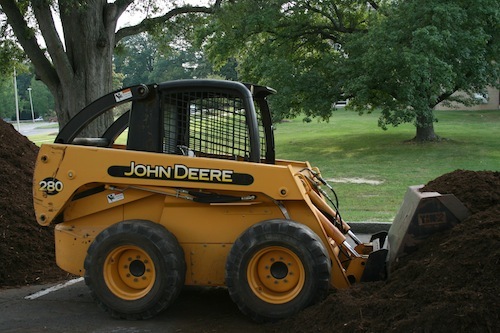 Let's look at a few of the most impressive features and see how the cost compares to similar brands.
Powerful Designs
John Deere skid steer loaders feature a powerful hydraulic system, along with a line of very capable engines, to provide the muscle needed for heavy jobs. Other features such as patented vertical lift technology, bucket design, and engineering for angled dumping make these machines popular among contractors, as well as a wide variety of agricultural applications that routinely use a Deere skid steer to clear brush, carry topsoil, mulch, and trench irrigation systems.
Models are available in three classes: 50 hp, 50 to 75 hp, and 75 plus hp. Depending on the machine you select, you can expect:
Turbocharged diesel engine (from 2.4L to 3.3L), Interim Tier 4-emission certified
Push-button switchable joystick controls, offering control via ISO, H-pattern, or foot/joystick electrohydraulic (EH)
Simplified maintenance, with daily checkpoints grouped beneath a hinged hood for easy access, as well as removable side panels that make servicing coolers, battery, fluid and air filters a breeze
Attachments
John Deere boasts a range of more than 100 skid steer loader attachments under its Worksite Pro brand. Items like buckets and forks, as well as trenchers, augurs, and various earth-moving implements help make these small industrial vehicles perfect for a wide assortment of tough jobs. Plus, the universal self-cleaning power Quik-Tatch enables the operator to quickly switch between attachments on the fly.
Many of the attachments can even be used with other John Deere equipment, including some excavator and backhoe models. For more information, see Deere's full list of attachments.
Competitively priced
The total cost of the machine largely depends on the amenities included. And this is one of the areas where Deere leads the pack. For example, recent quotes for three leading skid steers included the following:
John Deere 325 - $37,000, including 78" bucket, 78" brush cutter, enclosed cab with heat and air conditioning, and power Quick-Tatch
Case 440XT - $38,000, including bucket, a brush cutter, and drive control
Bobcat S205 - $38,000, including bucket and brush cutter
These estimates were for new machines. Used models can be found starting around $12,000 and can go as high as $29,000 depending on the year they were manufactured, service hours, and extra bells and whistles.
Ready to Compare Skid Steer Loaders Price Quotes?