Compact Track Loader Comparison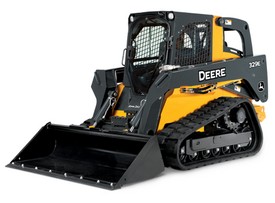 Interested in compact track loader pricing? Use this form to customize your CTL quote.
Deciding between a skid steer loader and a compact track loader (CTL) can be a difficult process. On one hand, typical CTLs can cost between 20% and 35% more than a comparable skid steer. On the other hand, some estimate you can move as much as 50% more material with a CTL. There's also downtime to consider when comparing the two loaders - CTLs can often operate in conditions skid steers cannot.
Once you've made your decision, you'll want to research the major brands of CTLs to make your selection. Here, we've reviewed the top CTL manufacturers (Bobcat, Caterpillar, and John Deere) and provided some insights to help you make your decision:
Bobcat
Bobcat offers compact track loaders in models from 40HP to 100HP with a tipping load up to 10,000 lbs. Average pricing for Bobcat CTLs range from $30,000 to $80,000.
Compact loaders are the perfect choice for navigating in smaller spaces and residential areas. Bobcat offers two undercarriage choices: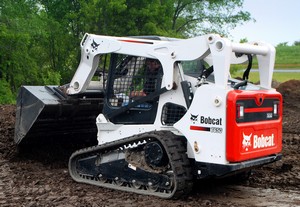 A standard solid-mount undercarriage, which provides high traction for work in mud or soft soil
A roller suspension option that creates a smoother ride for the operator and is better for firm ground
These loaders offer 20% more interior space and a larger entry area than competitors' machines. Enclosed cab models feature a large swing door and a lower door threshold, which enhances operator visibility. With 70% of the weight distributed to the rear, these CTLs offer better skidding and turning, as well as improved fuel economy.
Maintenance benefits
Bobcat makes CTL maintenance easy, as well. All hydraulics are within easy reach -- simply remove two nuts and then tilt the cab upwards. No specialized tools are required, which reduces your expenses and toolbox needs. The hydraulic system is powered by a Kevlar belt, which is guaranteed for three years.
The tailgate swings open, which provides easy access and allows for reduced service time. You can quickly check fluid levels, inspect the battery, and replace filters as needed. The tailgate is solid steel, adding further protection to engine components. The battery is protected from run-downs because the CTL's lights will shut off when its sensors recognize low voltage.
An onboard diagnostic system helps troubleshoot any potential problems, and the performance file is downloadable. Features also include an automatic protection system that shuts down the engine and hydraulics when it senses a failure.
Attachments
Attachment choices make your CTL extremely versatile. The "Bob-Tach" system makes attachment changes quick and easy. Depending on your chosen model, 70 different attachments are available, including a 3-point adapter, auger, dozer blade, or backhoe. For specialized needs, you can select a dumping hopper, pallet fork, snow blade, or landscape rake. Additional tool options include a grapple, tiller, tree fork, trencher, chipper, and concrete mixer.
Caterpillar
Caterpillar compact track loaders offer powertrains of 72.9 horsepower to 106 horsepower, with tipping loads that range from 2,900 pounds to 4,650 pounds. Base prices range from $52,000 for the 259B CTL to $96,000 and up for a 2014 model 299D.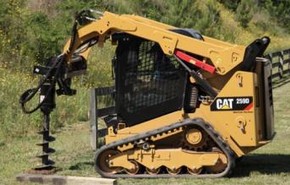 Compact track loaders, like this Caterpillar, accept a variety of attachments such as augers and post-hole diggers.
Something else that may interest you: A Caterpillar loader also has 10% more track length than competitors, and can move 22% faster. Here's a complete explanation of the brand's many benefits.
Improved suspension
Caterpillar equips its compact track loaders with torsion axle suspension as standard equipment. Competitors may offer similar packages in their loaders, but you can only access the same options through a performance upgrade. This feature comes in especially handy over rough terrain.
Torsion axle suspension allows these loaders to move faster than other loaders while allowing operators to forge a smoother course. Undercarriages can move up and down in this system, which contrasts with the rigid undercarriages found in other manufacturer offerings. For bucket load retention and other functions, the torsion axle system is a winning formula.
Easy-to-maintain undercarriage, more speed options
Closed undercarriages make loaders difficult to service and commonly allow mud to accumulate within tracks. When you can't easily service and clean the undercarriage, it creates long-term problems that ultimately lead to a shorter lifespan for the equipment. Caterpillar CTLs feature an open undercarriage, so you can easily clear away mud.
Additionally, the Caterpillar loader suspension system offers two speeds for operators to work with. Single-speed compact track loaders work fine for some businesses, but working with a two-speed system gives you the ability to outpace the competition. According to manufacturers, this second speed allows this brand's loaders to move at a pace 22 percent faster than competitors. Since this feature is standard on Caterpillar CTLs, you have the opportunity increase your productivity.
Longer track
Questions about a loader's ability to keep ground pressure low, avoid slipping, and provide longevity are answered by an elongated track. Nearly 70 inches of on-the-ground track in a Caterpillar compact loader offers 10% more length than competitors.
When going for maximum floatation, this added track length provides you with better performance. The same goes for the overall stability and ability to grade surfaces in tough conditions. Caterpillar's extended tracks also last longer than shorter models. Enhanced performance matched with durability is tough to beat.
John Deere
Comfort and convenience for operators
Operator comfort will always make for happier workers and better productivity. The John Deere D Series (base manufacturer's suggested retail price: $47,000-$53,000) and E Series (base MSRP: $67,000-$71,000) loaders are now on the market with frameless doors that allow operators to access the controls with ease. Suspension seats, extra cabin room, climate control, smartphone holders, and padded lap bars increase the comfort level and encourage better performance on the job.
Visibility is also one of the highlights of the Deere D and E Series. While new, high-tech safety features have helped to cut down on workplace accidents, simple design elements can often have the biggest impact. These series' cabins are designed to provide 360-degree views, so the operator doesn't have to worry about blind spots and can move with more precision and confidence.
High-performance features
In the latest John Deere loader models, you'll find improvements in performance. Models now come with an auto-idle feature, so the engine will slip into idle mode when machine functions haven't been used for a certain length of time. This helps you cut down on fuel consumption on the job, while enhanced cooling systems make hot-weather work easier on your operators.
If you elect to go with the EH Performance Package, operators will have more control in bucket speeds as well as options when using a cold planer or big trencher on the job. Moving from H to ISO patterns is possible with the flick of a switch in D Series performance models.
The value of a John Deere loader
John Deere D and E Series CTLs have open-track designs that minimize mud clogs. Maintenance of tracks is also simple, as you need to adjust tension levels every 50 hours of operation. The rubber tracks and steel idlers, rollers, and sprockets present a far more durable combination than comparable offerings without metal parts. You'll find five rollers to distribute loads more evenly in the John Deere 329E and the 333E. The two smaller models - the 319D and 323D - are equipped with four rollers.
Other protective elements in D Series machines include the automatic shutdown feature that protects from extreme temperatures and anti-theft technology. John Deere consistently evaluates feedback from its customers when designing new equipment models. The company's line of compact track loaders represents the height of value and performance - just what the customer wants.
After reviewing the above, if you're ready to customize a price quote for a compact track loader, fill out our quick question set specific to compact track loaders. If you think a skid steer loader is right for your job, click below to start customizing your quote.
Ready to Compare Skid Steer Loaders Price Quotes?