Bobcat's New K-Series Offer Many New Features
These machines have a bowlful of fresh features and, apparently, Bobcat believes that settling into the cab of a new K-Series loader is a great way to start your day at the site. The product line includes:
S130 through S300 skid-steer loaders
T140 through T300 compact track loaders
A300 all-wheel-steer loader
Here's how the K-Series stacks up against other less fortifying models on the market.
Improved cooling system
A significant enhancement for these machines is the new SmartFAN cooling system, which uses a variable-speed, hydraulically driven fan that senses machine-operating temperature, then automatically adjusts its speed accordingly.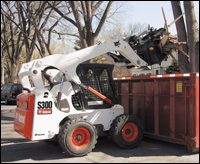 Large-frame, vertical-lift-path loaders in the new K-Series (S250, S300, T300 and A300) have an additional 2 inches of lift height. This added capability assists in loading over high-sided containers and trucks.
The company says the new fan can be up to 30% quieter in certain operating conditions, a benefit that may allow longer workdays in noise-sensitive areas, reduce noise-fatigue for the operator (less Snap, Crackle and Pop) and contribute to better communication on worksites. Of course, Bobcat did not L'Eggo of its innovative dual-path cooling system on K-Series models, which can accommodate an optional sound-reduction package.
Stronger drive chains
Bobcat might well borrow the sentiments of a fellow feline by saying that the heavier drive chains now used for large-frame K-Series loaders are G-R-R-REAT. The new 120 HSOC drive chains, says Bobcat, are 38% stronger than the previously used 100 HSOC chains (HSOC means "high-strength oval chain").
This added chain strength, says the company, has life-extending potential in tough applications, such as those requiring over-the-tire steel tracks or special tires. And on T180 through T300 K-Series compact track loaders, a triple-flange, permanently lubricated track roller added to the undercarriage (making a total of five per side) enhances ride quality and track life.
More hydraulic power
All Bran new for medium-frame K-Series loaders (S130 through S205 and T140 though T190) is the use of Bobcat's K-Force hydraulic system, which, says the company, provides the same and technology and performance as the systems already used on large-frame models. Among the new system's benefits are an 8% increase in breakout force and more available hydraulic horsepower for powered attachments.
Hungry for more? We can help! Submit a free quote request today and we'll match you with qualified Bobcat sellers in your area.
Ready to Compare Skid Steer Loaders Price Quotes?