Case Mid-Sized Skid Steer Loaders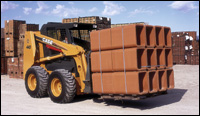 Learn what major skid-steer manufacturers are offering, including New Holland, Bobcat, Volvo, Caterpillar, Case, John Deere, and more.
Better cooling, starting, and faster ground speed
The 400 Series' 430, 440, and larger models introduced in 2005 feature a Tier 2 engine with a 95-amp alternator and new cooling package to balance control of engine and hydraulic temperature. Radial-piston drive motors with two-speed ground drive are also available, as is factory-installed air conditioning on the 430 and larger models.
Higher end performance
400 Series models are built tough, with a robust chassis, noticeably enhanced flotation, and exceptionally low ground pressure. This combination provides better handling and exceptional output even in tough soil conditions.
Operator comfort
Outstanding operator comfort was one of the primary goals of this redesign, producing higher productivity by enabling the operator to work longer. This level of comfort results from features that include:
Flip-back controls for easy entry and exit
Side-mounted instrumentation and accessory switches are easily reached yet don't obstruct vision
Low-effort servo-hydrostatic controls minimize driver fatigue and boost control
Sizes for the three models in this series - the 420, 430, and 440 - weigh in at 1,750 lbs., 2,000 lbs., and 2,200, and put out 56, 74, and 82 hp respectively. Expect to pay anywhere from $19,000 to $24,000 today.
Ready to Compare Skid Steer Loaders Price Quotes?