Caterpillar Mid-Sized Skid Steer Loaders
Learn what major skid-steer manufacturers are offering, including New Holland, Bobcat, Volvo, Caterpillar, Case, John Deere, and more.
Product-line features
Caterpillar offers vertical- and radial-lift skid-steer loaders in the 1,601- to 2,200-pound range so machines can be tailored to lifting or digging, material handling, or loading. All Cat skid-steers come standard with pilot-hydraulic joystick controls. Plus, daily service checkpoints are grouped in one location behind a rear door that can be opened without removing any access panels, even with the boom down.
Additional enhancements include: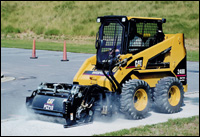 Ergonomic operator station: Designed to improve operator comfort, the pilot-operated joystick controls are shown to reduce operator fatigue, adding to safety and output.
Advanced power train: Built to crank out higher levels of horsepower and torque, the engine also allows for part-throttle operation to produce less sound and improve fuel efficiency.
Improved hydraulic system: While saving fuel is a concern for the 242B, it doesn't come at the expense of power. This model retains the capability for maximum performance and reliability as seen in previous generations, capitalizing on a high flow hydraulic system that allocates power to optimize work tool performance.
Lifts rated capacity at low idle
All of the Caterpillar mid-size skid-steer loaders can lift their rated operating load with the engine at low idle, so the machines retain their lifting torque even if the operator slows the engine to place materials gently.
The Cat 242B Series 2 Skid Steer Loader, with its vertical lift design, also delivers extended reach and lift height for quick and easy truck loading.
Expect to pay $13,000 to $29,000 today for 62 hp models that range from 2004s with 1,000 logged hours to 2012s with only 300 hours.
Ready to Compare Skid Steer Loaders Price Quotes?