Gehl Mid-Sized Skid Steer Loaders
Improved operating capacity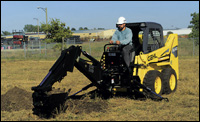 Gehl refined the new E-Series loaders to reduce sound levels and improve performance, yielding what Gehl calls "some of the lowest operator sound levels in the industry." Operating capacity increased 150 pounds, to 1,650 in the 4640T. Gehl says Poclain's refined radial-piston drive motors enhance reliability and loader and attachment performance while reducing sound levels. New muffler design and air intake also reduce sound.
Quick hitch
The E-Series skid steers are also equipped with a universal skid steer quick hitch. This time-saving feature enables the operator to quickly connect a wide variety of skid steer attachments, including:
Buckets
Grapple buckets
Pallet forks
Dozer blades
Sweepers
Harley rakes

4 in 1 buckets
Trenchers
Augers
Brush Cutters
Stump grinders
Product-line features and cost
The Power View Boom improves operator views left and right over the loader arm and the dual front and rear halogen work lights and dual tail tights enabling vision and safety in day or night operation.
Additional aspects of comfort and convenience include an adjustable operator restraint bar with armrests, enabling comfortable use by a wide range of operators, as well as the T-bar "Hands-only, Hand/Foot, Dual Hand, or T-Bar Joystick that enables operation by the most convenient method.
The E-Series, which offers an optional 2-speed transmission, also includes bi-directional auxiliary hydraulics with flat-faced couplers for optimum response and power, as well as an easy-to-read indicator panel that includes coolant temperature gauge and indicator light, fuel meter, oil pressure, seatbelt indicator, and hour meter.
Expect to pay $10,000 to $23,000 today for 60 hp machines that were manufactured between 2005 and 2008, and have logged anywhere from 700 hours to 6,700 hours.
Mid-sized skid-steer models: 4
New models: 4640ET, 4840E, 5640E and 5640ET
Ready to Compare Skid Steer Loaders Price Quotes?