Cummins Powers World's Strongest Skid-Steer
Vertical-lift linkage on Gehl's 7810E skid-steer provides consistent forward reach throughout the lift cycle and more dump reach (38.2 inches) at maximum height than any other skid-steer.
Despite the alteration, the 7810E retains the most powerful engine of any other skid-steer by a significant margin. Gehl's 7810E (and the Mustang 2109 - the same machine marketed in Mustang colors) tops the industry in:
Rated load capacity (12% more than the Mustang 2099 and 18% more than John Deere's 332)
Net horsepower (14% greater)
Peak torque (18% greater)
Plus, Gehl raised its SAE rated load capacity 5% to 3,850 pounds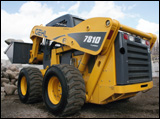 Premium PSI
You may be able to find hydraulic systems that match the 7810E Skid Loader's 3,300-psi hydraulic operating pressure, but none delivers more than its 29 gallons per minute of auxiliary flow. Deere and Bobcat offer high-flow options that rival the big Gehl's optional 41-gpm high-flow system.
More tipping load
The 7810E's engine is comparable with large compact track loaders. It equals or exceeds the rated operating capacity (at half of tipping load) of all but the five largest compact track loaders.
At 10,520 pounds of operating weight, the 7810E is a serious machine. The Mustang 2099 - a smaller Gehl-built machine - shaves about 3% of that weight, and the nearest competition weighs 1,360 pounds less (nearly 13%).
Compact wheel loaders are likely to be the 7810E's greatest competition. Suggested retail price of the skid-steer is at or below the price of wheel loaders with half or a third less engine horsepower. The 7810E offers 1,500 pounds or more tipping load than these small wheel loaders, and significantly more loading height.
Maneuverability and control options
Operations that demand the maneuverability of a skid-steer loader will not find a machine more productive than the 7810E. Two-speed drive is available, pushing ground speeds up to 12.5 miles per hour. With a 55-inch wheelbase (largest in class) and optional Hydraglide ride control, or lift-arm suspension, Gehl claims the big machine rides smoothly.
Four choices of controls are available:
Pilot-hydraulic joysticks
Dual-hand
Hand-foot
T-bar control
Manufacturer's suggested list price on the 7810E is expected to be $49,700.
Competitive Skid-Steers (by tipping load)
Model
Tipping Load (lb.)
Height to Bucket Pin (in.)
Bucket Breakout (lb.ft.)
Engine HP/Torque (ft.lb.)


Even with a drop to 99 horsepower, Gehl's new 7810E is more powerful than any skid-steer and mostcompact wheel loaders and compact track loaders.
Bobcat S300K
6,111
129
5,400
Kubota
81/217
Case
465
6,000
126
6,175
Case
82/263
New Holland
L190
5,600
126
7,670
New Holland
74/236
John Deere
332
6,350
127
8,210
Deere
85/251
Mustang
2099
6,800
142
7,880
Perkins
86/223
Mustang
2109
7,750
142
7,880
Cummins
99/305
Gehl
7810E
7,750
142
8,340
Cummins
99/305
Ready to Compare Skid Steer Loaders Price Quotes?