JCB Mid-Sized Skid Steer Loaders
Single Arm for Safer Operators
The single loader arm on the right side of JCB's 155 radial-lift loader continues to be its primary point of distinction in a crowded skid-steer-loader market. The single loader arm allows the user to enter and exit the machine through a door on the left side. The operator doesn't have to clamber over a potentially slippery bucket or attachment, and never climbs in or out of the machine under a load or the lift arm.
Product-line features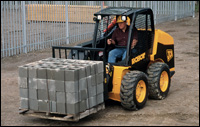 Manufactured at the facility in Savannah, Georgia, the 155's compact design provides extreme maneuverability, enabling the operator to deftly navigate around corners, along corridors, and within a variety of cramped work spaces.
With a rated operating capacity of 1,555 lbs it features:
Servo, pilot hydraulic joysticks can be configured for hands-only control or foot-and-hand control
Electro-hydraulic controls, reducing the potential for leaks while improving control
Single-arm Powerboom design, enabling the operator to get in through a side door without having to climb over attachments
Mechanical suspension seat for a smoother ride with optional heated, air-suspended model including adjustable arms available as an upgrade
Optional hydraulic quick-hitch, accommodating a diverse range of attachments from more than 30 families
Improved service access to simplify maintenance
According to JCB, "The 155 has on average 60% better visibility and a 46% larger cab than rival manufacturers' compact skid steer designs."
Mid-sized skid-steer models: 1
Expect to pay between $30,000 and $32,000, depending on customizations.
Ready to Compare Skid Steer Loaders Price Quotes?