John Deere Mid-Sized Skid Steer Loaders
Excels at loading
Deere originally introduced its 300 Series skid-steers in 2004 with patented vertical-lift booms achieving maximum reach at full lift height. Thirty-five-degree bucket rollback reduces spillage in the carry position, and the dump angle is a steep 45 degrees. There are skid-steer hydraulic systems that push a bit more flow than Deere's standard 317 and 320, but none bests 3,450 psi pressure except Caterpillar's 248B.
Product-line features
The 300 Series skid steers carry John Deere's 250 Series Power Tech engines. Oil-change intervals are extended to 500 hours with Deere Plus 50 engine oil and filter. Additional features include: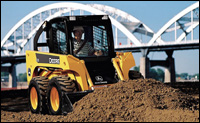 3.3L turbocharged diesel engine, certified for final Tier 4-emissions
Joystick controls, switchable between ISO, H-pattern, or foot/joystick electrohydraulic (EH) controls
Improved lift height to hinge pin
Extended reach at truck beds
Connect-under-pressure auxiliary couplers
Attachments
Designed for compatibility, the 300 Series accepts more than 100 available Worksite Pro attachments, ranging from trenches, roller levels, and cold planers to brooms, snow pushers, and material/manure scrapers. Plus, the incorporation of the universal self-cleaning power Quik-Tatch enables the operator to quickly switch between attachments on the fly. For more information, see Deere's full list of attachments.
Mid-sized skid-steer models: 7
Models: 313 and 315 (50 hp); 318E and 320E (50 to 75 hp); 326E, 328E, 332E (75+ hp)
Expect to pay anywhere from $11,900 to $25,000 for used machines depending on the year, service hours, and customizations like heat and air conditioning. New machines range between $20,000 and $35,000.
Ready to Compare Skid Steer Loaders Price Quotes?