Mini Skid Steer Loader: Bobcat MT55
The Bobcat line of mini track loaders includes two models, both diesel powered: the MT52, rated at 18.8 horsepower and 36 inches wide; and the MT55, rated at 23.5 horsepower and 44 inches wide. The MT55, designed primarily for construction applications, can be used as a walk-behind, or can be fitted quickly with a pivoting, swiveling ride-on platform.
The MT55 borrows technology from its larger track-loader counterparts in the Bobcat range, using, for example, the same type of elevated-sprocket undercarriage. The elevated sprocket, says the company, keeps the drive motors out of the dirt and provides a more efficient, less stressful transfer of power from the sprocket to the track. The MT55 also uses the same Bob-Tach coupler as larger Bobcat models, facilitating the use of Bobcat attachments. The MT55 powers its attachments with an auxiliary-hydraulic system that produces 12 gpm at 2,900 psi.
The MT55 also features a reverse-speed limiter, a sliding control that can be adjusted to the desired reverse speed (0-1.5 mph) to avoid having to continually feather the drive controls - for example, when trenching. And when operating in reverse, a reverse-stop panel protects the operator from unseen obstacles behind.
Review detailed specs on any Bobcat skid steer loader here.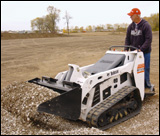 Equipped with its standard 10-inch-wide tracks, the Bobcat MT55 has a ground pressure of 4.1 psi. The ride-on platform that the machine on site used can be quickly attached with two pins.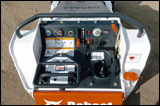 The Bobcat MT55 control panel is designed to keep one hand on the drive/steering controls, and the other on the work-group controller. The center bar within the rectangular handrail is squeezed fore and aft to control direction, and the entrie handrail assembly rotates to provide steering. The auxiliary-hydraulics lever has a detent in each position for convenience. For safety, a button on the dash allows controlled lowering of the lift arms if the machine is disabled.
Bobcat MT55
Engine
Kubota
Fuel
Diesel
Horsepower (net)
23.5
ROC (lb.)*
550
Operating weight (lb.)
2,696
Hydraulic flow, auxiliary (gpm)
12
Hydraulic pressure (psi)
2,900
Bucket volume (cu. ft.)
6.7
Bucket hinge-pin height (in.)
71.3
Travel speed, fwd (mph)
3.5
Track width (in.)
10
Track-on-ground (in.)
34
*Rated Operating Capacity @ 35% of tipping load.


Additional Mini-Skid Models
Model
Fuel
HP
Undercarriage
MT52
D
20
Track
Ready to Compare Skid Steer Loaders Price Quotes?