Rating New Holland's Skid Steer Loader 200 Series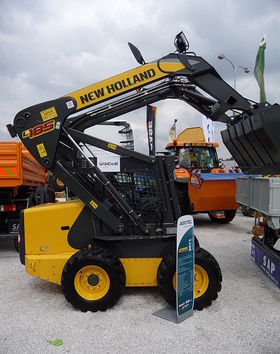 New Holland touts their desire to bring customer feedback into the skid steer design process. And if the 200 Series is any indication, it's not just lip service! They now offer seven skid steers that produce between 43 and 84 hp through engines certified for final Tier 4-emissions, and a bucket breakout force that extends from 4,150 lbs at the low end to 8,585 lbs at the max.
Could one of them increase productivity in your next job? To help you compare, here&'s a closer look at some of the main features of the New Holland 200 Series.
The Super Boom lift. New Holland introduced this style of lift, which is used on the 200 Series skid steer loaders. The innovation is in the reach, as well as the forward dump height. When you're trying to get materials to the center of a flatbed, you'll have more reach with Super Boom technology. More than 60 attachments can be added to these loaders, giving you flexibility to handle a wide variety of jobs.
Greater stability. An extra-long wheelbase and low center of gravity make operation easier. Stability is crucial when operators are handling a loader in tough conditions. The New Holland 200 Series gives operators more control by staying close to the ground and refusing to tilt when heavy loads are stacked up. Without physical stress applied during operation, your team can work at a high level longer, equating to more productive shifts.
Enhanced cab comfort. Operators stay comfortable in the enhanced cab. Physical comfort used to be overlooked in skid steer loaders. Between the latest Caterpillar models and these New Holland 200 Series loaders, that has changed considerably. Extra shoulder room and comfortable seats make these loaders easy on operators. Additional foot room, heat controls, and added visibility have the same effect.
Efficiency through breakout force. The dump angle and breakout force change the pace of work. How can you improve cycle times? These New Holland loaders add bucket breakout force to move the process along, while the dump angle makes it easy to start on the next block of material. Designers appear to have noted the requests of users all over the world with respect to this feature.
User-friendly controls. Bringing in a different operator is a process that often leads to delays. But streamlined controls and easy-access maintenance checkpoints offer an opportunity for fast shift changes with the 200 Series. Plus, once operators get inside the vehicle, they can start these loaders without a key and get right to work
Ready to Compare Skid Steer Loaders Price Quotes?