Are Used Skid Steer Loaders the Better Option?
Buying a skid steer loader is a big investment for your business. And when considering the prices of a loader, plus attachments, you may find your budget stretched. Would shopping for used skid steer loaders be a better financial option for you and your business?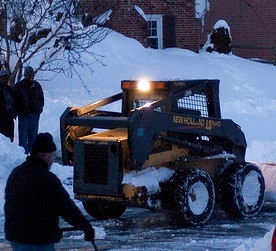 Whether you shop for new or used skid steer loaders is a business decision that will depend on the needs and budget of your business. Any equipment you purchase must be available and reliable to keep your business running smoothly. So extra caution should be taken when shopping for pre-owned equipment to ensure you are actually saving money on the life of the loader.
Here's what to be on the lookout for.
Test and check before you buy
Skid loaders aren't coddled on the job. And many of the used machines on the market have come from daily rental outfits where they have suffered far more abuse than those offered through a single owner. It is very important to have someone who is accustomed to using and repairing loaders look at the machine before you decide to purchase it and check for any damage that may lead to expensive repairs down the road.
In particular, pay attention to:
Hours. The logged hours should pair up with a level of use you're comfortable with in comparison to the machine's age. High hours on a new machine means it's been worked hard in a short period of time and may be due for some serious maintenance or repairs.
Engine. Check a diesel engine by removing the oil cap while it's running and look for black smoke. If a lot of smoke pours out, it may be a sign of weak compression. Also, if possible, pull the injectors and take a compression test. According to some pros, readings between 350 to 420 lbs are acceptable - but the cylinders have to be evenly matched. If you get a reading of 375 on one and 410 on another, you'll be facing a problem with fuel injection before long.
Tires. Like any car or truck, tire wear is another thing to consider, and something that's inevitable with time. Depending on the amount and type of use, skid steer tires tend to last for about 500 hours. If you're looking at a skid steer with only 250 hours and the tires are worn, this would be another indication of heavy use. It's worth noting that quality new tires will cost anywhere from $120 to $600 each, depending on the size and type. And tracks will cost between $1,700 and $4,000. So if everything but the tires checks out, it may not be a bad investment.
Appearance. If a machine is only a few years old but already has a new paintjob and new decals, watch out. This is also an indication that the machine has been well used and, though it may be suitable as a backup, will probably not be the most reliable skid steer for full-time use.
Finally, take the machine for a test drive, checking it out on all of the tasks you would normally have your skid steer loader do in your business. This should allow you to get a feel for its overall ability and where it is straining.
Warranty issues
The nice thing about buying new equipment is that most repairs fall under a warranty for the first few years. Some used equipment still falls under the manufacturer's warranty as well. If not, the seller may offer to sell you an additional warranty. It's a good idea, unless you are able to do repairs yourself, to consider a warranty for at least one year to ensure anything you miss in the first inspection will be covered without extra expense.
Don't compromise
Don't buy a machine that doesn't suit your business just because it's inexpensive. When shopping for a used skid steer loader, you should be considering the same features and abilities as you would if you were buying a new one. Don't compromise on weight, size, and capacity just because a machine with the attributes you need isn't immediately available.
Ready to Compare Skid Steer Loaders Price Quotes?