NY Health Insurance Laws for Employers and Self-employed Workers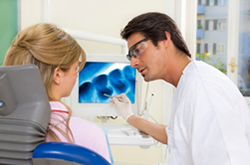 When you buy NY health insurance, federal law makes sure employers and the self-employed are protected. These reforms help the smaller employers – and sole proprietors – get the same, affordable health benefits that larger companies typically receive.
Yet according to the Kaiser Family Foundation, 2 million of the 19 million residents in New York State are uninsured. This leaves 10% of children in New York uninsured without the proper health insurance to protect them in the case of an emergency and to provide routine medical care.
Understanding small group health insurance in New York
As long as you have at least two employees and no more than 50, you are eligible for a small group NY health insurance plan. Since you're not required to have a certain percentage of employees participating in the plan, you have the flexibility to offer insurance to employees rather than require it.
In New York, insurers must offer coverage for employees' families and can't turn down individuals because of a previous health complication. Smaller companies are also protected under NY health insurance laws with guaranteed insurance renewals if a covered employee gets sick. Before you can renew your company's coverage, insurance companies reserve the right to require a specific number of participants in the group plan; a common minimal requirement is 51% employee participation.
Another benefit to small group plans for NY health insurance is community-rated premiums. Your rates will not be impacted by individual health status, gender, age, or occupation. However, rates may vary based on the size of an employee's family or location.
Small group health insurance plans in New York are subject to regular changes from the Affordable Care Act. As of 2012, they now includes more benefits for Women's Preventative Health Services, like:
Well-woman visits
Gestational diabetes screening
HPV DNA testing
STD counseling
HIV counseling/screening
Domestic violence counseling/screening
Breast-feeding guidance/support
Generic contraceptives
When shopping for the right small group health insurance provider, keep in mind that a business must have 2-50 eligible employees in order to qualify. Many healthcare companies consider an eligible employee to be a worker employed full-time, working an average of 20 hours per week.
Understanding self-employed health insurance in New York
Self-employed individuals with no other employees other than a spouse can purchase a similar NY health insurance group plan. You can go to a vendor that specializes in group plans for the self-employed or purchase a health plan that features the same laws that protect the individually insured. As a sole proprietor, you may also deduct a percentage of your premiums from your income taxes.
The good news is that healthcare options for self-employed individuals in New York will expand thanks to the Affordable Care Act in 2014. Currently, self-employed workers can utilize COBRA (Consolidated Omnibus Budget Reconciliation Act of 1985) insurance to extend employer benefits for 18 months after quitting a job.
After that time has expired, a self-employed worker can purchase an individual policy by comparison shopping based on benefits and cost. Since New York is a guaranteed-issue health insurance state, health insurance companies must provide you with the freedom to buy health insurance, even with serious medical conditions in your family's health history.
How to make a final decision in New York health insurance
According to the New York government, small businesses, sole proprietors, and working individuals have five basic options in health insurance:
HealthPass - Primarily used by NYC small businesses.
Healthy NY - Used by small businesses, sole proprietors, and uninsured workers without employer coverage.
LIA Health Alliance - Used by NYC small businesses and sole proprietors.
Brooklyn HealthWorks - Used by Brooklyn small businesses, sole proprietors, and uninsured workers without employer coverage.
Freelancers Union - Offers group health insurance for independent workers in and around NYC.
Small businesses and self-employed workers can find the best health insurance option in New York by contacting an insurance agent directly for more information. To choose the right insurance for your business or family, take into account the type of coverage offered, benefit options available, ease of enrollment and billing, and overall affordability of a policy.
Ready to Compare Health Insurance Price Quotes?