Real-world Health Insurance Rates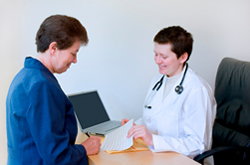 We regularly survey BuyerZone users to ask how their purchases went. We've used their responses to provide a sampling of actual prices paid for health insurance.
The three most popular types of health care plans are HMOs, PPOs, and POSs. Some businesses offer two or three of these options, while others will only provide the one they feel provides best mix of costs and benefits.
HMOs (Health maintenance organizations) - are the least expensive and least flexible, requiring referrals from a primary care physician for any visits to specialists, and not covering most out-of-network doctors.
PPOs (Preferred provider organizations) don't have as many restrictions as HMOs, but members still need to visit doctors and hospitals in-network to get the best rates.
POSs (point of service plans) require referrals to visit specialists outside the network, but cover some visits outside of the network for an additional cost.
Each of these plans requires additional fees for co-payments, co-insurance, and deductibles. You should also consider broker and insurance agent fees when selecting a health insurance plan. These costs are based on the value of the policies you buy.
Most businesses pass on some of the monthly premium costs to their employees. You can choose the percentage you want to contribute: the average employer contribution in 2003 was 84% of the premium for single coverage and 73% for families, but those averages have been dropping.
HMO plan rates
"$504/month for Kaiser HMO, optical plan add on, chiropractor add on, and acupuncture add on for two people." - Attorney, Colorado Springs, Colorado
"$276 per month per person." [wellness program] - Non-Profit Manager, New York, New York
"$2,583 per month." - Insurer, Melville, New York
"$616 monthly." [vision/eyewear, Rx, dental] - Pest Control Provider, Sun City, California
PPO plan rates
"Approximately $430 per month." [dental for two employees] - Retail Consultant, Roseville, California
"$719 per month." [vision/eyewear, dental, Rx] - Office Manager, Middletown, New Jersey
"$272 per member, health, dental, and vision coverage." - Educator, Beltsville, Maryland
POS plan rates
"$149/mo. Price includes $55,000 of life insurance per employee." - Office Manager, Oakes, North Dakota
"$591 monthly for group health insurance that covered medical and alternative care for two employees plus two children." - Telecom CEO, Canby, Oregon
Want more information on choosing health insurance? Read our Health Insurance Buyer's Guide.
Information was provided by BuyerZone users. Quotes have been edited for clarity only.
Ready to Compare Health Insurance Price Quotes?