Paycheck Essentials for Small Businesses
One of the most important considerations when choosing a service to handle your paychecks is how you get your payroll information to them. There are three key factors to balance: security, accuracy, and timeliness. Here's what to keep in mind before you start comparing services from multiple paychecks providers.
Paycheck security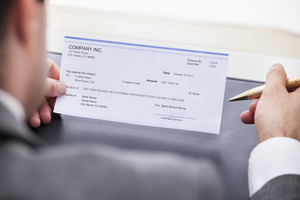 Keeping your sensitive payroll data away from prying eyes is one of the key responsibilities of a paycheck service provider. Payroll data is among the most sought-after information by data thieves - the combination of bank account information social security numbers, and direct deposit amounts is very tempting. Payroll data is also potentially valuable to competitors.
To keep your data private, make sure the information for your paychecks is transmitted securely to the provider. Secure transmission is often done over a dedicated modem, or a secure web page. Don't trust email, unless you encrypt the information before you send it.
Another side of security is the delivery of your actual paychecks to your office. While it doesn't quite carry the risk factor of a cash payroll being delivered on a stagecoach, you should make sure that the payroll service takes appropriate caution when delivering your paychecks.
Services you should expect
Each review authority will have their own criteria on which to judge the best paycheck company. It all boiled down to your expectations and needs. Just about every company that services small and medium-sized businesses will offer:
Benefits Administration
Human Resources Management
Payroll
Time & Attendance
There are addition services offered by some of the larger vendors that help with HR administration such as:
1099 Form Processing
Garnishment
General Ledger
New Hire Reporting
Paper Check
Payroll Debit Card
Payroll Report
Payroll Tax Payment
W-2 Form Processing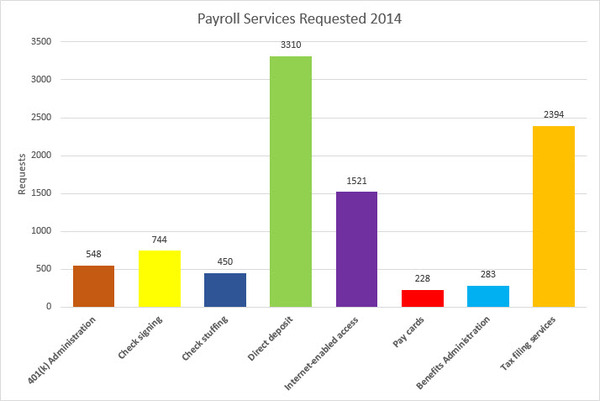 Payroll services requested in 2014
If you definitely need paper checks you will need to carefully select your vendor because not all providers have that capacity.
Making sure employee paychecks are as accurate as possible is a second key to payroll success. Even with a payroll service, processing paychecks every pay period can eat up quite a bit of valuable HR time - going back to redo mistakes can be a real headache.
Since you enter the payroll information a good part of the responsibility for accuracy falls on you. However, you should make sure the system you choose allows you to easily review and correct information as you go. Many systems offer basic error checking, ensuring that you at least provide information in all required fields. Others can flag entries that vary substantially from previous weeks, as can happen if you misplace a decimal point, for example.
Timeliness of paychecks
From an employee point of view, getting paychecks on time is non-negotiable. Whether that's weekly, bi-weekly, bi-monthly, or monthly, people depend on that paycheck being there when they need it. A payroll service should commit to delivering your payroll on time every time - no exceptions.
As with accuracy, responsibility for timeliness falls partly on your shoulders, as well. Look for payroll services that are easy to use and provide all the help you need to get your information in quickly. In case there ever is a problem, on your end or theirs, find out what kinds of rush services are available and how much they cost.
Ready to Compare Payroll Services Price Quotes?