Employee Leasing Introduction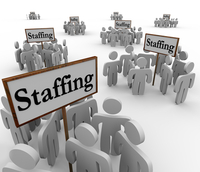 Managing employees can be a costly and time-consuming job. More importantly, if you operate a business without an experienced HR professional on staff, you could put the company at risk.
A Professional Employer Organization (PEO) can provide employee leasing services to relieve your company of its administrative and legal burdens and becoming a co-employer of your personnel.
As a co-employer, a PEO becomes the legal "employer of record" for all of your employees. Under this arrangement, the PEO technically hires your employees and leases them back to you - hence the term "employee leasing". They use their own tax ID to submit payroll records and file taxes, offer benefits, and secure workers' compensation insurance. They also assume liability for your company's employment practices, HR employee handbooks, and compliance with all federal and state labor regulations.
In addition to taking on legal risks and responsibilities, employee leasing services can help you save money and streamline your human resources operations - whether you have overworked HR staff in-house or no HR at all. In turn, you can spend more time focusing on managing your business.
How does PEO differ from HRO?
Human Resources Outsourcing (HRO) providers are similar to PEO services in that both help relieve the administrative and financial burden of managing your company's payroll, benefits, and employee manuals. However, HRO providers do so as third-party consultants and are not co-employers of your staff. For more information, read our HR Outsourcing Buyer's Guide.
This BuyerZone Employee Leasing Buyer's Guide will explain:
The full range of services a PEO provides
How the co-employer agreement works
The benefits and disadvantages
How to choose the right PEO
---
Similar to hiring any other employee, there are a number of competencies you'll need to consider before moving forward. Planning for these issues up front will ensure the smoothest integration and help you find the best PEO for your business. Get started here.
---
Staff Leasing Considerations
The ideal staff leasing arrangement benefits both your company and your employees. Your business spends less time administering HR functions. PEO services can help reduce company costs and they assume liability. Your employees receive expanded and improved benefits and services.
Staff leasing services provide four core competencies for your business:
Safety and risk management: This is the bread and butter of the PEO industry - they assume liability if somebody gets injured on the job or accuses a co-worker of harassment. PEO services ensure compliance with all employment laws and OSHA regulations and assure there's no discrimination of age, sex, or race in the workplace. Also, since the IRS considers a PEO the employer of record for your workers, they are liable for all related payments.


Payroll processing and taxes: The PEO distributes paychecks, processes direct deposits, withholds payroll taxes and wage garnishments, sends out year-end tax statements, and oversees any required audits. All payroll taxes and potential liabilities are also paid by the PEO service.


Benefits administration: PEOs can procure competitive rates for a variety of employee benefits including health and dental insurance, short-term and long-term disability, life insurance, 401(k) plans, COBRA, and unemployment insurance. They also handle all the paperwork associated with managing these benefits. You can also consider Administrative Services Only (ASO) - a third party administrator that manages health benefits and processes claims for businesses with self-funded health plans.


HR management: A PEO works with you to ensure your compliance with federal and state labor regulations. They also apply their HR expertise to help you create detailed employee handbooks and training documentation; provide updated labor law posters; and oversee personnel development. PEO services also help in the recruitment process by placing advertisements for open jobs, prescreening candidates, and conducting background checks and drug screenings.
Who uses staff leasing?
PEO services offer staff leasing for companies of any size and in a range of industries from law firms and Internet businesses to manufacturing and medical offices. The typical PEO service customer has 15-20 worksite employees with little to no HR experience. PEOs offer these smaller companies the cost savings and comprehensive benefits that are typically reserved for larger companies.
For larger companies with in-house HR staff, PEOs remove some of the administrative burden from HR staff. A PEO can also help you cut expenses: hiring a PEO service costs significantly less than a full time HR staffer. Companies in high-risk industries like construction can also find cost savings with PEOs since they share a benefits pool with lower-risk industries.
It's worth noting that the staff leasing industry has unfairly suffered from a bad reputation. When PEOs began 20 years ago, there were many companies that illegally obtained workers compensation benefits, abused state insurance and tax law privileges, and neglected to file payroll taxes. Even though state and federal agencies and industry organizations such as the National Association of PEO (NAPEO) have cracked down on these poor practices, the stigma has endured.
---
The next step is to familiarize yourself with the nature of a co-employer agreement. In particular, pay attention to how it could affect you and those who work at your facility.
---
The PEO Co-Employer Agreement
If you feel that you'll lose control of your company with a PEO, you're not alone. Many companies get confused by the co-employer relationship. It's important to recognize that you always run the show. You have control over all business operations and the work that your employees do. You are simply contracting PEO companies to take over administrative duties, employer responsibilities and liabilities. The terms to remember are that the PEO is the "administrative employer," while your company is the "worksite employer."
A common concern for companies who are hesitant to employ PEO companies is whether they can trust an outsider with full responsibility for their employees. You may also worry that that PEO companies could lease your staff to another company. However these concerns are unfounded: PEOs work very hard to avoid conflicts of interest and keep your business practices confidential.
For many, giving up official employment of staff is a difficult conceptual hurdle to overcome. If you can't look past it, PEO services may not be for you. Remember, too, that if you ever feel that a PEO is challenging your position of power, you can simply give 30 days notice and look for another option.
If a PEO gives you advice on how to handle a situation - dismissing a disgruntled employee, for example - and you choose to ignore it, the vendor can give elect to end your working relationship. The PEO complies with various regulations and knows how to approach delicate situations to prevent a lawsuit. Without their expertise, you'll be on your own to defend the claim using your own resources.
How will employees be affected?
From an employee perspective, PEO services are seamless. Your staffers' day-to-day reporting requirements don't change - they would perform their same job functions, but they'd see the PEO's name on their paychecks. If an employee has a question about benefits, they can call the PEO directly and talk with staffers assigned to understand your needs.
If you hire a PEO, it's best that you explain the co-employer agreement with your staff right away. A common misconception employees have is that their jobs are in jeopardy for cheaper labor, which can make them understandably nervous. Many PEO companies will schedule a brief introductory seminar to explain the PEO's role and to help with the benefits transfer paperwork.
---
With an understanding of the process, it's time to limit the field of potential sellers. Start this next step by understating the difference between a broker and an actual PEO.
---
Choosing an Employee Leasing Company
When it comes time to find an employee leasing company, you can either go directly to a PEO or turn to a PEO broker.
PEO vs. broker
When talking directly to a PEO, you can discuss what you are looking for and the seller can walk you through their available employee leasing solutions. If you don't like one PEO, simply keep surveying other ones until you find one who best fits your needs. You'll have limited pricing options - established sellers can typically dictate a premium since they are well known in the industry.
Brokers can help by assessing your company's needs and then matching you with the appropriate employee leasing company. This saves you the time of meeting with multiple sellers, although you're limited to those sellers the broker knows. Most PEOs cover all industries. However, if you need specific PEO services that the broker's network can't provide, you'll have to find a seller on your own.
How to select an employee leasing company
Regardless of whether you go directly to PEOs or work through a broker, you should first assess your workplace to determine what you need. Some things to consider when selecting an employee leasing company:
Do you already have benefits in place?
Are there benefits your employees are asking for that you can't currently offer?
Are you paying too much for certain benefits?
Are you spending a majority of your time managing your employees instead of your business?
Is your office compliant with state and federal employment regulations?
Do you have documented workplace policies and employee handbooks?
Are your employees protected if they have an accident or a conflict with another employee?
What hiring needs do you have for the next 12 to 18 months?
Do you know enough about prospective hires before you make them job offers?
Can you develop programs to retain employees?
Before you meet with any sellers, determine when you would like an employee leasing company to start. It can take a PEO a few days or several weeks to get started, depending on how complex your needs are.
Meet with all employee leasing companies in person to discuss what you need. Make sure they have the experience to help you reach your goals. Find out what work they have done in your industry and ask what they did to help similar companies achieve success.
Ask what kind of on-site services you will receive. While a PEO typically works outside your office, they should make regular trips to your company to discuss any issues or upcoming policy changes with you and your employees.
You also might want to confer with them for advice on a particular issue that needs an immediate solution such as an employee dispute, so ask about their policies and response times for both emergency situations and routine questions. This support can vary based on the PEO.
After you hear the proposals from multiple employee leasing companies, most of them will allow you to meet and prescreen the actual staff who would work with you. This will let you gauge their approach to business and personality to decide if you could work together as co-employers.
Ask for both client and professional references from all PEOs. Request a few references from a PEO's previous clients, preferably companies in a similar industry to yours. Check their financial background including their banking and credit references. You want to ensure they paid all payroll taxes and insurance premiums on time.
Also, find out if they are affiliated with a recognized industry organization like NAPEO that has specific business practice requirements to become a member.
---
Your next step is to budget for the cost of services. These tend to vary based on what's provided, as well as a couple of other more personal factors.
---
Professional Employee Organization Pricing
Pricing for professional employer organization services starts with an initial setup fee - typically $1,000 to $5,000 - before the PEO becomes your co-employer. This is a one-time charge you pay regardless of how long you work with the PEO.
Take a look at prices other BuyerZone users reported paying for PEO services.
You then pay the professional employer organization a percentage of gross payroll. The standard rate is 2% to 6% of each employee per pay period. The actual rate can vary based on the number of services you use and what industry you are in.
For example, restaurants with low salaried employees may be charged a higher rate. PEOs also have to factor in their workers' compensation costs that can range from 1% to 10% of every employee's salary. Clerical industries are at the low end with manufacturing sectors coming in much higher. Most PEOs will provide volume discounts for large companies.
There are professional employer organizations that will bundle all services - everything from payroll and workers compensation to assisting with writing offer letters to prospective employees. These packages could cost as much as 12% to 15% of gross payroll but can be worth it if you take full advantage of all the services offered.
Some PEOs may offer fixed pricing based on your total gross payroll. This is essentially the same idea as percentage-based pricing - only they factor in the percentage and express it in dollar amounts. The one advantage to fixed pricing is that it's constant and isn't subject to salary increases and bonuses. However, a PEO will typically account for such changes when working on an agreement.
PEO services typically charge for other services beyond basic administration. Additional PEO costs include employee background checks ($40 to $75), drug screenings ($75 to $120), and adding or removing employees from the payroll ($50 each). Other costs - taxes, recruitment advertisements and copywriting, and onsite training - can be expressed as fixed rates or an additional percentage of salaries.
PEO client-service agreement
A co-employer arrangement with a professional employment organization is a special kind of contract known as a client-service agreement. Generally, PEOs look for a one-year commitment.
If you want to cancel PEO services, you can simply choose to not call in payroll. This means that the PEO can't draw their fees, but then the immediate responsibility for your employees defaults back to you. If a PEO agreement isn't working out and you want to cancel it or migrate to a new seller, giving 30 days notice is standard.
Before you sign any contract, review the service agreement carefully. Make sure the seller clearly states what the company's liabilities and responsibilities are so you are fully protected in case of an incident. Also find out what guarantees the seller provides and what they will do if there is a problem.
Employee Leasing Buying Tips
The time to switch. It's beneficial to sign up for employee leasing solutions as early in the New Year as possible. Certain HR responsibilities (like unemployment insurance) require you to pay up to a certain amount (typically $8,000) by the end of the year. If you began the year paying unemployment insurance, you would have to start paying again when you switch to your PEO's tax ID. Since everyone gets a fresh start at the beginning of the year, that's the opportune time to consider employee leasing solutions.
If you have it, use it. Understand and take advantage of all the employee leasing solutions and benefits you're entitled to. If you're not using the services offered, you're wasting of money. Some options, like direct deposit, are included in PEO services and can be easily overlooked.
Liability limits. The PEO industry claims to relieve you of all liabilities and responsibilities for your employees, but that's not always the case. Sometimes, both parties share the responsibilities. You need to find out exactly what the PEO has exclusive responsibility for and what you're required to stay on top of. These limits can vary from state to state, so check with your local officials to understand your situation.
Benefits input. If you really want to enhance the benefits you can offer employees through PEO services, just ask them. Employees can be a great source of input for new benefits since they know exactly what they want. Employees may have families or be part of a younger demographic who don't use a lot of standard benefits, so requests may vary. However, you should get a sense for what new benefits would make your entire team happy and help keep them on board.
401k transfer. Transferring 401(k) plans from your current provider to a PEO can be difficult. Employees are not allowed to open a second 401(k) plan because of limits on how much they can contribute in a year. In order to transfer an employee to the PEO's plan, the seller needs to provide documentation to prove that employees have only one active 401(k). This can be time consuming and can cost the PEO money in fines if it's not done properly.
Broker awareness. It's difficult to gauge if there is a conflict of interest with PEO services brokers. Since they are paid by PEOs, you want to make sure they are looking for your best interest and not simply a larger commission for themselves. Make sure they work closely with several different employee leasing solutions.
Here's to your health. If you only need to outsource the management of your health benefits, consider working with Administrative Services Only (ASO).
Ready to Compare PEO - Employee Leasing Price Quotes?