Save Space With Narrow Aisle Forklifts
Narrow aisle forklifts are essential to modern warehousing operations. By allowing aisle widths as narrow as 6 feet, they greatly increase the number of aisles that can fit in a given warehouse, and that in turn increases warehouse capacity.
Standard lift trucks need aisles that are 11' wide or larger to be able to operate and turn around. Narrow aisle forklifts (NA) are capable of operating in aisles 8' to 10' wide; and very narrow aisle forklifts (VNAs) can work in aisles as little as 6' wide. Note that "narrow aisle forklift" and "very narrow aisle forklift" are industry-standard terms, not just descriptions.
The key aspect of narrow aisle forklifts is that their forks are turned at a right angle to the body of the truck. This allows them to drive straight down the aisle but pick up loads to the side. By eliminating the need to have the truck face the shelves, they greatly reduce their space requirements.
Narrow aisle forklift specifications
| | |
| --- | --- |
| Maximum Available Capacity | Typically 5,000 to 10,000 lbs. |
| Power Source | Electric or Propane |
| Tires | Cushion |
| Best Used | Indoors |
| Typical Applications | Warehousing / Manufacturing |
| Advantages | Reduced Space Requirements |
Since they often operate with little margin for error, very narrow aisle forklifts are available with guidance systems. Optical or wire guidance systems that run the length of the aisle keep the forklift on a consistently straight path, allowing the operator to focus on picking and placing loads.
Narrow aisle forklifts are almost all electric powered, since they're used indoors, although some propane-powered models are available. They also feature cushion tires - smooth, solid rubber tires that are best for paved surfaces and concrete floors.
Other valuable add-ons for narrow aisle forklifts:
Sideshift. This very popular option allows the operator to move the load left and right without moving the truck, allowing much more precise placement of loads.
Tilt mast. The ability to tilt the mast and forks forward and back is useful if loads aren't exactly level. Tilting the mast back slightly also provides greater stability while moving a loaded truck.
Extendable forks. Adding extendable forks increases the "reach" of the forklift, allowing what's known as "double-deep" loading: stacking pallets one in front of the other.
Operator platforms. Some NA forklifts raise and lower the operator along with the forks. When handling loads 20' or 30' up, this allows much greater visibility and control than having the operator at ground level.
The prices of narrow aisle forklifts vary depending on height restrictions, weight restrictions and fuel type, just to name a few. Used models go for as little as $5,000 while top stack reachers can cost as much as $41,000. Like any other piece of equipment, knowing what you need it to do will help you determine the fit for your operation and your budget.
Essential features and safety precautions for implementing aisle forklifts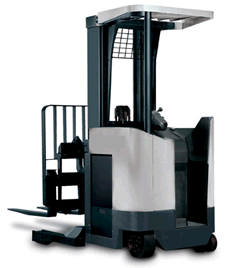 Research narrow aisle forklifts dealers with a request for quote today
Busy warehouse operations require smart, safe solutions. Knowing the type of forklift that's right for your workplace is the duty of every manager and owner. Once you know which machine fits your space, make sure that every safety precaution is in place and that employees are trained to operate them properly.
Here is some helpful information about the safety procedures and features you'll need when implementing forklifts for narrow aisles.
Maximum Time On The Floor. How long does it take to get your aisle forklifts ready for a shift? This question, often overlooked by managers, has a big effect on the daily operations of your business. Whether you are going with fuel-cell lifts or traditional models, you want to keep downtime to a minimum after every shift.
Ability To Really See Heights. During safety reviews, you'll learn that one-fourth of deaths connected to forklift operation involve overturned vehicles. You can avoid accidents when you have aisle forklifts. These machines should be able to handle the upper shelves in your work space without tipping over. Maximum visibility is essential in these situations. Pre-shift vehicle tests will tell you whether your forklift has any issues in alignment or lift handling.
Traction And Controls. Even if your lift operators are well trained and experienced, a machine that is tough to handle can make the job difficult. Added stress can become a safety hazard later on in the shift, so make sure a lift has excellent traction. Also make sure the controls respond to the operations of seasoned workers. Even with top-notch employees, the equipment has to cooperate.
Durability. Aisle forklifts may have to withstand difficult conditions and harsh seasons, depending on your business location. This is what separates the quality machines from lesser models. Examine the resale value documents for your area to get an idea of how far your investment will go and what type of response you can get from a machine through the winter and summer seasons.
Clear Maintenance. OSHA guidelines are clear about how to prepare a forklift for a coming shift. While you are responsible for this procedure every time, having an advanced machine can save you a great deal of time with maintenance. Well-oiled lifts go through the procedure quickly, allowing operators to run tests and get down to business within minutes.
Lifts that can maneuver through narrow aisles and stand up to daily tests are valuable tools for your business. When you get machines with top safety and performance features, everyone in the company wins. Ready to talk to narrow aisle forklift dealers near you? BuyerZone will connect you with the right suppliers - it's free and takes just minutes.
Ready to Compare Forklifts Price Quotes?