Toyota Forklifts Basic Features and Model Range
With more than 45 years in North America, Toyota has quickly risen to prominence in the industrial equipment niche, manufacturing a wide range of internal combustion and electric forklifts. Toyota forklifts come standard with basic features such as cowl-mounted hydraulic controls, a four-way suspension seat, high fuel efficiency, and a variety of safety systems. With 73 dealers and 224 locations throughout the United States, their service network and support are just as reliable as the machines they manufacture.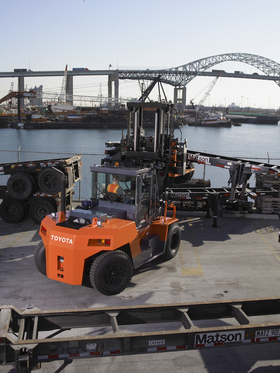 Toyota has also made a concerted effort toward the development of electric power, introducing the 8-Series, a selection of 4-wheel AC-powered electric lift trucks. Unlike other electric forklifts, the AC-powered system features unique subsystems that simultaneously conserve energy while regenerating power. This has been shown to maximize operational productivity by extending the time between charges. Despite the sustainable nature of their focus, performance can't be said to suffer... in fact, it's been improved as well. The 8-Series reportedly offers travel speeds that are up to 21% faster than other models, taking their electric machines into the same realm as IC models.
These features and more have helped make the company the number one lift truck supplier worldwide ten years in a row.
Here are a few of the top features noted for their benefits to businesses both large and small.
Safety features
Safety is an important factor in any forklift. An unsafe forklift not only puts employees in danger, but tipping and overloading can result in expensive repairs to the forklift itself.
To help avoid this, Toyota's forklifts come equipped with the Toyota System of Active Stability™ (SAS). The SAS consists of ten different sensors, three actuators, and a controller, all of which work together to analyze surrounding conditions - such as load weight and speed - and adjust performance accordingly. The system is capable of the following functions:
Speed reduction when cornering
Swing-lock cylinder
Mast-front tilt angle control
Mast-rear tilt speed control
Fork leveling control
Active steering synchronizer
Other safety features include an Operator Presence Sensing System (OPSS), a bolt-on overhead guard, a key lowering interlock, an electric horn, and much more.
Fuel efficiency
Like Toyota's automobiles, Toyota forklifts are known for their fuel efficiency. Tests conducted by the independent testing organization United States Auto Club (USAC) have shown that Toyota's 5,000-pound cushion internal combustion lift trucks can save as much as $6,497 in fuel costs, have longer run times, and are capable of over 700 cycles per day.
The different types of Toyota forklifts
Although Toyota manufactures a wide range of forklifts, almost every model falls under one of three different categories: cushion tire internal combustion forklifts, pneumatic tire internal combustion forklifts, and electric motor forklifts.
Cushion Tire Internal Combustion Forklifts: Toyota's line of cushion tire internal combustion forklifts features lifting capacities ranging from 6,500 to 15,500 pounds, making them great for handling inventory in small to large warehouses. The unique feature of these forklifts, however, is the tires; unlike pneumatic tires that are filled with air, cushion tires are made of solid rubber. While cushion tires are no longer found on most modern vehicles, their inability to burst makes them great for traveling over glass, metal, and other sharp materials.
Despite these advantages, cushion tires are not able to gain traction or traverse uneven or rough terrain.
Pneumatic tire internal combustion forklifts
Toyota's pneumatic tire line of internal combustion forklifts not only feature the small-capacity forklifts found in the cushion tire range, but also boast large capacity rigs capable of lifting up to 51,000 pounds. Large-capacity forklifts are often used at construction yards for lifting and transporting heavy objects such as steel beams.
Apart from the wider range of lifting capacities, pneumatic tire forklifts can be used on rough terrain and uneven surfaces - unlike cushion tire forklifts. However, since they are more difficult to manufacture, models equipped with pneumatic tires often cost slightly more than other varieties.
Electric motor forklifts
Toyota's range of electric forklifts not only features some models capable of lifting up to 12,000 pounds, but is also equipped with high-efficiency AC motors. Most of the electric models can be made with either cushion or pneumatic tires, allowing them to be used in many environments.
Costs
Toyota is also focused on value, with a wide range of both IC and electric forklifts that are often priced lower than competing brands. Basic electric models start in the neighborhood of $9,000 to $20,000 for a 5,000-lb lift capacity, with a common average being about $15,000. Standard midrange IC models, featuring a 12,000-lb lift capacity and more, retail for $23,000 to $50,000.
Ready to Compare Forklifts Price Quotes?