Aligning Your Industrial Energy Management Software Model
Industrial Energy management (IEM) has been growing in popularity for quite some time. As a central component of LNS Research's Enterprise Sustainability Management (ESM) model, which is an information management strategy that unifies sustainability efforts, IEM has a direct effect on environmental, financial, and business performance.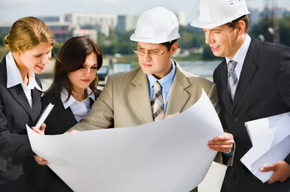 People and leadership are some of the most important components of an operational excellence strategy.
We advise industrial and manufacturing executives to take an operational excellence approach to IEM, aligning the right mix of people, processes, and technology with their organization's financial, operating, and environmental goals and initiatives. Without this, it's difficult to properly optimize reductions in cost, improvements in efficiency, and other critical performance indicators.
Below, I'll discuss each of these three areas more in depth, touching on people and leadership, business processes and energy management systems, and the type technologies companies are leveraging today.
People and Leadership
Regardless of the management area, people and leadership are some of the most important components of an operational excellence strategy. With IEM, it takes a number of variables all working in unison to effectively improve business performance, including executive buy-in, communication, collaboration, and subject matter expertise.
A motivated culture charged by strong leadership is requisite for an IEM initiative to take hold and drive improvements. For success in people and leadership, the following areas are key:
Development of Chief Sustainability Officer (CSO) role.
Coordination of activities between the CSO, Energy Director, and plant level energy czars.
Recognition for successes in energy management.
Culture that fosters and supports collaboration.
Use of third parties for subject matter expertise and audit capabilities.
Business Processes and Energy Management Systems
The standardization of business processes across the value chain and throughout an organization is vital for an effective IEM strategy. This means centrally managing end-to-end business processes for continuous improvement, reporting, energy procurement, energy use, and the management of energy efficiency projects.
Market leaders are putting distributed facilities under one system to get a clearer outlook on energy management. The following energy management systems, focus areas, and business processes are being utilized for this:
Continuous Improvement: ISO 50001, SEP, Energy Star
Industrial Partner Programs: Guides for Best Practices
Corporate Social Responsibility, CSR Reports, and Carbon Reporting
Evaluating Energy Efficiency Projects
Measuring Energy Intensity and Energy on the Bill of Materials
Energy Optimization across Procurement and Use
Emerging IEM Technology
Although the previous two focus areas, people and business processes, have a considerable amount of research completed on them, IEM software is a relatively fresh area. Most previous research has been done on business process and leadership best practices or on energy efficiency technology.
As we launch our research into IEM, we'll be placing most of our focus on IEM software and its relation to the broader operational excellence framework. The technology piece can only be effective if it's aligned with leadership and processes.
Depicted in the infographic below, we define three distinct areas of IEM software: procurement, usage, and reporting.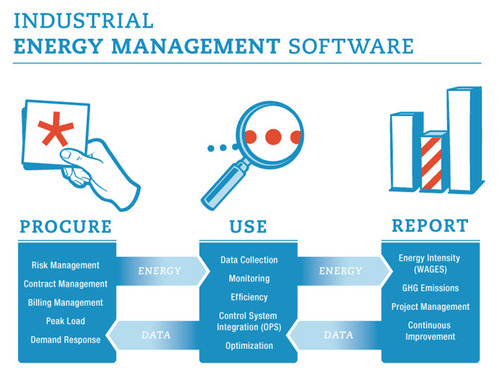 The LNS Industrial Energy Management Software Framework focuses on the demand side of the industrial energy use equation. It provides a model for understanding how energy flows through the organization as well as how data must flow back through and inform decisions. It touches on areas such as risk management, data collection, and project management.
In future posts, we'll dive deeper into IEM software.
Looking at IEM and Sustainability Globally
Companies are turning to more holistic strategies for managing areas such as sustainability, quality, manufacturing, and engineering. The benefits of introducing a global perspective into the decision-making process are incomparable in relation to traditional information management strategies.
Moving away from the use of targeted solutions for targeted problems, market leaders are making jumps in business performance. Keep in mind the long-term goals of your organization as well as IT architecture strategy as you make investments in IEM and sustainability.