Understanding the Staples of an Effective Quality Management Culture
For effective quality management initiatives to really take root, it's important that the organizational view of quality be transformed. Rather than some separate entity or department, quality needs to become part of every employee's daily thought process. Market leading companies understand the value in this and have invested in developing a quality culture.
Indeed, we see data that reflects a desire to improve quality culture. LNS Research's 2012-2013 Quality Management Survey asked over 500 quality executives and decision makers across a range of industries about the biggest challenges their organizations experience around quality. As can be seen in the graph below, the second most popular response was that quality is considered a "department, not a responsibility." Over 50% of respondents reported having this challenge.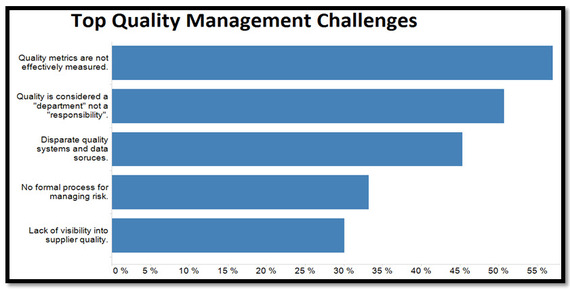 LNS Research's 2012-2013 Quality Management Survey
But creating this type of atmosphere isn't as simple as a one-day workshop or company-wide email. It has to be strategically implemented into an organization's culture over time, and from the right directives. These start with the very top of the company.
The easiest and most successful tactic for building a culture of quality management is by making it an executive and Board priority.
Having quality top-of-mind at the highest levels will slowly trickle its way throughout the company until it's ingrained in every employee. In conjunction with the Board of Directors, the CEO and other executives have the most power and quickest ability to make lasting change. Below, we'll examine some of the specific ways decision makers can get the quality ball rolling.
Buy-In from the Board
Decisions and backing from the Board of Directors are very influential as the Board has a significant role in setting strategic company objectives and supporting the CEO. It's important that board members stay current on emerging quality technologies and trends, as well as any related regulations. They can then permanently place them on the docket for each board meeting to ensure that quality permeates the organizational consciousness.
Additionally, Board members can reinforce the importance of quality by developing a resource center for employees with educational courses and standard operating procedures, and visually by walking around plants and attending community and industry meetings.
Executives' Role in Establishing Priorities
From here, there are more tangible steps that executives can take to impart quality objectives across the organization, such as dedicating a portion of the annual budget to create an internal marketing plan for employees, or developing short- and long-term plans for internal education, process improvements, and capital investments.
Additionally, executives can create reporting requirements for quality metrics and plans for improvement at the managerial level, and incentivize workers with compensation tied to meeting and beating quality goals. Many companies have gone so far as to create a Chief Quality Officer (CQO) role to take the lead on this initiative.
Bringing Quality Initiatives to the Plant Level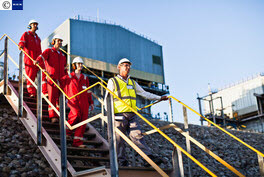 Managers must set the example.
Though executive buy-in is important in determining whether quality programs survive and flourish, the actions of plant-level managers are crucial in extending them to shop-floor operations. It's important that managers be the embodiment of model quality employees, setting expectations through actions like wearing safety goggles, following standard operating procedures, having discussions on how decisions impact quality, and so on.
Moreover, the general effectiveness of these managers is paramount, as a prioritization of quality may not carry much influence with someone whose management style is ineffective.
Empowering Shop-Floor Workers
If each of these steps is carried out effectively, workers should be armed with the tools and envelope of empowerment to carry out quality objectives. If done correctly, workers shouldn't feel as if they are just a mindless cog in the company gears; they should be trained to have independent thought processes which they can express on the topic of quality.
Only after a sense of ownership has been established on the ground floor will the full benefits of a quality management initiative be experienced at an enterprise level.
It's also important that the knowledge and experience of these workers is captured and considered by each level of the chain of command above. As the ones interfacing directly with production equipment, workers have valuable knowledge of the effectiveness of processes and technologies. By taking worker feedback into consideration, companies can effectively create a positive feedback loop of ideas around quality.
Instilling a Culture of Quality in Your Organization
It's clear that quality leaders have identified the challenges that surface when quality is treated as a siloed department, and that integrating it into organizational consciousness will deliver a myriad of benefits. The most important step in achieving this goal is to foster the right attitude at the top, and let the results trickle down throughout the company.
For more information on building a quality culture or how technology can enable performance improvements in quality management, take a look at LNS Research's EQMS Best Practices Guide.