Real-world Office Trailer Costs from BuyerZone Buyers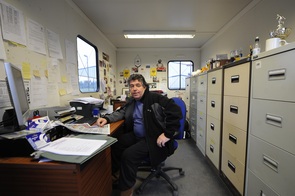 When it comes to an office for your business you want to get it right, and at the right price. We've reached out to our users and summarized what the purchased and how much they paid for their office trailers. Find out if a similar trailer would work for your business.
The vast majority of office trailers are leased, not sold, and the pricing data we collected reflects that. Lease costs vary considerably based on several factors. The most important is size: of course you'll pay more for a 60' x 24' double wide than you would for a 30' x 12' trailer.
The add-ons you choose will also impact the price. While most trailers come with basic furniture built-in, extras like air conditioning or bathrooms will increase your costs. Of course, a trailer used mainly for storage doesn't need those extras - be sure to consider the use of the trailer before choosing a top of the line model.
Installation charges are a huge component of the total costs of leasing office trailers. You'll be hit with delivery charges twice - once for delivery, and again for pickup. Other charges include blocking and leveling, skirting (to hide the wheels), and hooking up electricity or sewer connections.
Mobile office trailer lease pricing
"$340/mo. for 60-ft trailer office w/ lighting, A/C, steps, installation, and some modifications to accommodate my needs."

- Manufacturer, Lawrenceville, Illinois

"$37,000 installation cost and an average 2-year monthly lease cost of $1,000 for 4 units."

- Education, Indianapolis, Indiana

"32' x 8' Stor-A-Van w/ office - $250 a month. Delivery $300, block, level and tiedown $350, knockdown $63, return freight $300."

- Construction contractor, Gulf Shores, Alabama

"12' x 60' temporary office trailers - $275/month rent for one-year contract for each of two trailers."

- Country club, Atlantic Beach, North Carolina

"We leased for $170 per month."

- Landscape artist, Livermore, California

"$335 per month lease; included steps, skirting, in property waiver, insurance liability waiver, set up and knock down, anchors, block and level."

- Business services, Pigeon Forge, Tennessee

"10' x 10' guard house for $286/month on a 12-month lease."

- Wholesaler, Bethlehem, Pennsylvania

"Used 24-foot double-wide trailers (ie 60' X 24') for monthly rent of $635/mo for 2 years. $9,963 for set up and tear down including delivery, leveling, skirting, anchors, taxes, complete removal."

- Construction firm, Milwaukee, Wisconsin

"$5,383 for delivery and installation, $292 for teardown and return, with $438/month for 36 month lease."

- Engineering firm, Export, Pennsylvania

"$150/month plus insurance - about $1,000 for delivery, setup, and return."

- Realtor, Stuart, Florida

"$315 per month for six months. $600 for delivery and setup."

-Manufacturer, Ridgecrest, California

"48' x 12' mobile office $470/mo. $250 delivery, $199 block and level, $23.50 property tax, $56.55 state and local tax, $64 knockdown, $250 return freight."

- General contractor, Peninsula, Ohio

"Two-room office trailer for $207 per month."

- Golf course manager, Kutztown, Pennsylvania
back to top
Information was provided by BuyerZone users. Quotes have been edited for clarity only.
Ready to Compare Office Trailers Price Quotes?