Introduction to Portable Buildings
There are two main types of modular construction, also known as prefabricated construction, available: mobile offices and modular buildings. Mobile offices consist primarily of pre-made stock buildings that are typically used by construction companies for temporary office space. Modular buildings, in contrast, are custom-built to a user's specifications.
With both types of buildings, construction of the building takes place in a factory-controlled environment using the same materials utilized for traditional construction. The entire building is not built in one piece; instead, the floor plan is broken up into individual modules that can be shipped on the road. Each module ranges in size from 10 to 18 feet wide to 36 to 76 feet long, with the module width depending on state shipping regulations.
Up to 90% of a building is normally constructed at the factory. Each module is built out with walls, ceilings, carpeting, and wiring. Building modules are then assembled to form a seamless building when they reach the destination site.
Most modular buildings consist of one to two modules and occupy one floor, for a total of one to two thousand square feet. Modular buildings can also be used for much larger spaces ranging in the tens and even hundreds of thousands of square feet and can be three or four stories tall.
This BuyerZone Modular Buildings Buyer's Guide will help you learn how to plan for a building project, what to look for in a seller, and how much you can expect to pay. Then, when you're ready, we can put you in touch with several qualified portable building sellers in your area - for free!
---
Your grounds, environment, and intended use will have a huge impact on the portable building design you select. As you begin your research, take a few minutes to familiarize yourself with the types available, and how each includes features that enable it to serve a specific purpose.
---
Portable Building Designs
As with traditional buildings, modular buildings can be used for many different purposes. They can range from portable classrooms to research lab facilities to a medical clinic. Companies in the healthcare, government, education and retail industries often turn to modular buildings for their construction needs.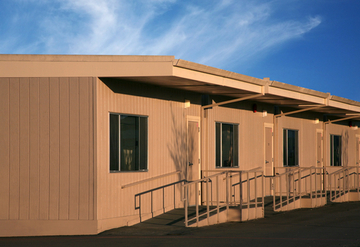 Unlike traditional buildings however, modular buildings have design constraints. Since the building will be shipped via the road, there are maximum height constraints. Typical ceiling heights are around 8 feet vs. 9 to 10 feet for traditional construction. Companies looking for a building to enclose a much large overhead space (e.g. prefab warehouse, riding arena) will likely fare better with steel buildings.
There are a variety of finishes you can choose for your modular building exterior. They include wood, steel, brick, stucco, aggregate and other exterior siding. You can also customize your exterior with windows, multiple doors, and various roof treatments. Numerous options exist for finishing the interior as well.
As with conventional buildings, you can have your modular building erected so it is flush to the ground or set above ground. To have the building entrance set flush to the ground, you will need a pit-set foundation. You should also consult with a local geotechnical firm to ensure the soil conditions are appropriate for a below-ground foundation. Above-ground foundations will require that your building has ramps and steps to all entrances.
To provide a more custom look, there has been a recent trend to constructing "permanent modular" buildings that require more on-site construction. This translates to having as little as 50 percent of the construction occurring at the factory.
---
Your next step is to consider the pros and cons of a modular building. Far cheaper and more efficient than a permanent structure, there are a number of additional cost advantages to this form of construction.
---
Portable Buildings Pros & Cons
The most compelling reason why companies turn to modular buildings is the speed of construction. A standard five thousand square foot building like a medical clinic can be erected in as little as 45 days vs. the 6-month timeframe for traditionally built buildings. Faster construction means that a company can generate revenue more quickly and start paying for overhead costs sooner.
Lower cost
Modular buildings are also less expensive than conventionally built buildings. Where you might pay $100 to $130 per square foot for a site-built medical clinic, modular building pricing can range from $55 to $60 per square foot, including installation. The actual price you will pay for your specific building can be dramatically higher or lower than these ranges. However, you can always expect to pay less than you would for a traditionally built building.
Movable
Prefab modular buildings can also be relocated. This can certainly work to your advantage if you anticipate having to move sites. That way, you do not have to re-invest in constructing another building from scratch, with all its related costs.
Tax benefits
There are also tax savings related to modular buildings. Even if you choose to purchase a modular building, you can benefit from a more favorable depreciation schedule. Traditional building costs are usually amortized over 35 years. Modular buildings can be recognized under an accelerated depreciation schedule of 7 or 12 years, which can be a real unheralded benefit. Make sure to consult your accountant about your specific situation before making a final decision.
Standard designs
The primary drawback of modular buildings concerns its look and feel. If you want a more custom, architectural look to your building, modular buildings are probably not well suited for you. However, it should be noted, that there has been an increasing trend to permanent modular buildings where a portion of the construction is done on site.
Basic modular construction elements like the elevated entrance and somewhat shorter ceilings can make the buildings look less stylish. While there are certainly ways to address these design elements, doing so can increase your overall building costs.
Preassembled
For those who expect to see their building constructed piece by piece, the modular building process can be somewhat disconcerting. Rest assured that modular buildings use the same building materials as conventional construction and must meet all the same federal, state, and local building codes.
---
It's crucial to find the best seller suited to your specific needs to ensure you get the ideal combination of quality and cost. Be sure to compare the products and services of a number of different sellers.
---
Choosing a Portable Building Seller
When it comes time to buy or lease a modular building, you can turn to modular building sellers or manufacturers.
Modular building sellers broker most of the buildings sold and leased today. These companies do not build the buildings themselves, but instead lease already-constructed buildings that they hold in inventory or turn to modular builders for their construction.
Building manufacturers known as "integrated seller manufacturers" also sell directly to end-users. While many building manufacturers previously relied on modular building sellers to sell their construction services to end users, some have recently turned to selling to customers directly in an effort to better control their revenues.
It can be difficult to determine whether a company that sells modular buildings is a seller or a manufacturer. Modular building sellers do not readily disclose this information because of the perception that potential customers would prefer working directly with the manufacturer. This concern should not be relevant as long as the seller works with a reputable manufacturer and can properly manage your project.
Both sellers and manufacturers will cite reasons why they are a better fit for end-users. Sellers assert that it is more effective to work with them as they can wield more clout with a manufacturer.
Since a seller will purchase many more buildings from the company than a typical end customer, if a problem were to arise, you would have better representation. In turn, manufacturers claim that working directly with them can reduce the risk of miscommunication, gives you increased control over quality and cuts out the middleman seller, leading to reduced pricing.
In the end, your decision about which type of company you turn to should be based on finding a company that can provide a quality building at a fair price and offer a high level of customer service throughout the buying process.
Portable Building Purchasing Process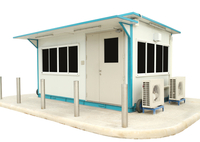 Despite the complexity of the final product, buying a modular building is a fairly straightforward process.
Step #1
It starts with an initial call where you describe what your needs to a project manager or estimator. The builder will learn about your desired modular building application (e.g. portable classroom, day care center, medical clinic etc.), the ideal size building you want, and any specific requirements you have for the building. This conversation should help you both understand whether a modular building is the appropriate type of construction for your needs.
Step #2
After this initial conversation, the next step is for the building supplier to develop your building specifications. It can start with a hand-drawn sketch of the building with a rough floor plan. The floor plan then gets fleshed out over the next few days, with details like the placement of windows, cabling, and electrical outlets ironed out.
Step #3
A proposal based on this specification is then developed. If you work with an integrated seller manufacturer, your project manager will turn to the estimating department to prepare a quote for you. Sellers will request quotes from one or multiple modular building manufacturers, depending on whether they have exclusive arrangements, and then choose one to present to you.
Step #4
After you have signed off on a proposal, you will approve the deal by making a down payment. Your project manager will then visit your site to square away details about the site location and building that are needed to draft engineering documents. These engineering documents define the structural requirements for construction. Manufacturers may use in-house engineers or outsource the document creation to an engineering firm.
Step #5
With the engineering documents created and then reviewed by third-party inspectors, actual construction can begin. The building process can take one to three days for a five thousand square foot building. Since the building is created in a climate-controlled environment, factors like sunlight and inclement weather do not restrict the available hours to work.
Step #6
Third-party inspectors will then inspect the completed building modules before they can be shipped to you. Most buildings have a frame, axle and tires attached directly to the module so it can be shipped directly to you by truck.
Step #7
Even though a building may be ready for shipping as soon as a week after you have ordered it, it can take several weeks for the appropriate permits to be issued. Once the permit-related hurdles are crossed, the foundation can be built and the building modules can be delivered and assembled. Most often, you would hire a local work crew to build the foundation and turn to your building partner to handle the building installation.
---
As with many large purchases, modular buildings may have pricing elements that are negotiable. So we've compiled the price range below based on what BuyerZone customers have recently paid for portable buildings throughout the United States. Plan accordingly.
---
Portable Building Pricing
As you might imagine, costs for modular buildings can vary quite dramatically from $35 to $200 per square foot. The primary factors that affect price include the building size, material quality and complexity of the buildout.
Portable classrooms and offices, which typically do not have very complex buildout requirements, will fall on the low to mid- end of the scale. Basic medical offices are typically more costly than these types of buildings. On the high end, sophisticated buildings with extensive HVAC, wiring and/or high-end building material quality will result in building costs that fall on the high end of the spectrum.
Pricing also varies according to the region of the country. It can be difficult to take advantage of regional differences however as the shipping costs can be prohibitive.
See what other BuyerZone users paid for their modular buildings.
If you receive multiple bids, be wary of choosing the lowest priced bid. It is critical that you ensure that bids are truly comparable before choosing solely based on price. Compare specifications carefully as one bid can be significantly lower than another as a result of skimping on construction materials. Check that the quality of fixtures, doors, walls, carpeting, electrical and HVAC are comparable. In addition, make sure to include all costs such as installation when comparing bids.
In terms of financing, you can choose to buy or lease your modular building. Consult your accountant about the tax implications of either leasing or purchasing a building before making a final purchasing decision.
---
A few of our leading national portable building sellers have offered some pro tips on finding the best prefab building - not to mention finding a seller that will meet your needs efficiently and cost-effectively.
---
Portable Building Buying Tips
Find out whether the seller will be constructing your prefab buildings or outsourcing construction.


If you are working with an integrated prefab buildings dealer manufacturer, check how long the company has been selling directly to end- users. Be sure that the company has had a strong track record of handling end users directly to ensure a smooth building process.


If you work with a seller, make sure to find out which manufacturer will be creating the prefab buildings.


Do not purchase prefab buildings without a complete set of specifications and defined scope of work agreed upon.


Read the contract carefully. Make sure the contract does not allow the manufacturer to substitute materials without specifying that they be the same or higher quality than the materials included in the specification.


Check a builder's reputation. Shoddy prefab buildings construction can be hard to identify, even if you are an expert. Speak with references that have had prefab buildings for multiple years to see how they have lasted.


Check the seller's experience in building the type and size building you want. You do not want them to learn at your expense.


Ask about the building quality control and inspection process. Knowing what steps builders take to ensure that the finished product meets expectations will help you minimize the risk of disappointment when the final product is delivered.


If you are leasing an already-made building, ask for digital photos and inquire about its last refurbishment.
Ready to Compare Portable Buildings Price Quotes?