Introduction to Pre-Engineered Steel Buildings
The benefits of a pre-engineered building come from the construction material itself - steel - and how the structure is built. The combination of metal construction and pre-engineered components provides three main advantages:
Cost: Because the labor to put up your building is drastically reduced, you can save 30% or more over more traditional construction methods.
Speed. Pre-engineered steel buildings can be operating in 60 to 90 days, instead of six months or more.
Durability: Without requiring repainting or other maintenance, steel buildings are guaranteed to last 20 to 30 years, depending on the manufacturer.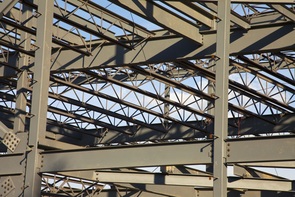 Now dotting the industrial landscape, specific types have been designed for applications that include:
Agricultural: Supply/equipment storage, dairy farms, riding arenas and exhibition grounds, and barns
Commercial: Offices, shops and flea markets, automotive service shops, and supermarkets
Institutional: Exhibition/lecture halls and auditoriums as well as additional and/or specialized classrooms
Recreational: Swimming pool, sports venue, and theaters
Industrial: Inventory warehouses, manufacturing facilities, as well as equipment and/or supply storage
Aviation: Aircraft hangar and equipment storage
Military: Temporary operating post and applications that often encompass all other types
Green construction
In today's political and social climate, many buyers of prefab steel buildings consider the "green" factor and their structure's impact on the environment. And that impact is becoming increasingly minimal.
The Metal Building Manufacturers Association has reported that waste emissions from steel construction are down 90 percent during the past decade and that steel is the "most recycled material" in the world. When a steel building is demolished to make way for new construction, the metal won't end up in a landfill like asphalt shingles, concrete, brick, and wood.
According to the association, the recycling of one ton of steel saves the equivalent of 2,500 pounds of iron ore, 1,400 pounds of bituminous coal, and 120 pounds of limestone – further promoting the use of prefab structures over traditional forms of construction.
Here's how a typical pre-engineered steel building project progresses:
Design: Before any work can proceed, you need to specify the size and shape of the building, the type of roof and interior walls you want, the number and placement of doors and windows, and any facade or other cosmetic enhancements.


Engineering: Once the basic design is complete and you've paid a deposit, an engineer needs to create the specifications and blueprints for the steel building. The blueprints will specify what materials should be used and what loads the building will need to be able to withstand to meet local building codes.


Fabrication and delivery: After the blueprints are signed off on, the real production begins. The beams, posts, girders, side and roof panels, and even the fasteners to hold the building together are all produced at a factory, then shipped to your construction site. The parts are pre-cut to the exact dimensions you need, pre-drilled, and ready to be bolted together. This step can take three to six weeks.


Sitework: While the components are being manufactured, the building site can be readied. Pre-engineered buildings require foundations, which are usually poured concrete.


Construction: Once the components arrive and the foundation is ready, the actual construction can take place.


Finishing: Adding insulation, interior walls, exterior finishes, doors and windows, steps, plumbing, and all the pieces that turn a metal box into a building you can appreciate.


Walkthrough: Like any construction project, your pre-engineered building needs to be approved by a building inspector once it is completed.
Ready to Compare Steel Buildings Price Quotes?