Real-world Steel Buildings Prices by Type of Structure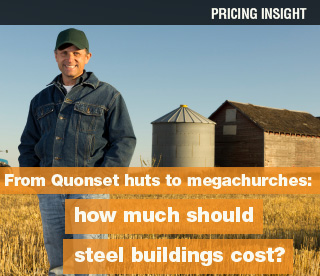 Comparing prices is a great way to educate yourself before choosing a steel building provider -- and we can help you get the insight you need. Tens of thousands of other businesspeople have used BuyerZone for their building projects, and we've surveyed them to gather feedback on the actual steel building prices they settled on.
First, it's important to understand the types of buildings they're buying vary considerably, so the price per square foot can be misleading. There prices listed below for two main types of steel buildings:
The first, arch style steel buildings (or Quonset huts), are most commonly used for storage, garages, and tool sheds. Arch style buildings feature interlocking metal ribs that form the roof and building sides and are the least expensive and simplest solution for basic steel buildings.
Rigid frame buildings (or straight wall buildings) are much more flexible and best suited for commercial and industrial steel buildings as they can be designed to suit a huge range of applications. Rigid frame buildings have a steel skeleton frame and flat steel panels for roof and walls.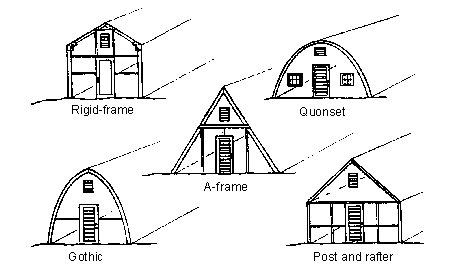 Whichever style is right for your project, you'll need a concrete pad installed to support the building.
Another important price consideration is insulation. Unless you are using your steel building predominantly for non-climate-controlled storage, insulation is a necessity. Make sure your vendor can provide you with adequate insulation that adheres to all state and federal guidelines.
Finally, the height you choose will have a big impact on the final cost that may not be reflected in the price per square foot. Make sure you note how much clearance you will need for your building: if you need overhead cranes, tall warehouse shelving, or clearance to unload trucks and trailers, that will push up your height requirements -- and therefore your costs.
Prices for rigid frame steel buildings (straight wall buildings)
$17,300 for a 40' x 60' building. Two 12x12 doors, with 3" of insulation on walls and roof."- Agriculture business, Kittrell, North Carolina
"30x40 building with concrete for $30,000, it was installed as well." - Landscaping franchise, Lewiston, Idaho
"$19,000 included a 50' x 60' building with three bay doors and one walk door." - Commercial fencing, Amarillo, Texas
"$16,100 for a 36' x 50' building with two twenty foot overhead doors plus a service door.- Agricultural business, Canton, Ohio
"I paid $38,000 for a 4,000-square foot building minus the 4 garage doors. The building that I purchased is complete with gutters and insulation. It is not yet erected." - Transportation/logistics provider, Huntingdon Valley, Pennsylvania
"Building is 25' x 40', 14ft tall. Has 16' and 12' wide roll up doors plus a 36" entry door, plus a 13 ft mezzanine. $18,000." - Business services company, Arroyo Grande, California
"30'x40' x 18' tall, 12'x14' roll up door, 2 3x7 door, 2 3x4 windows, insulation, 4 skylights. $17,000." - Auto body shop, Buffalo, NY
The building we purchased was a complete turn key operation. We only had to deal with one contractor and he was local. Price of the building included concrete pad, metal frame, insulation, siding, roof, and 10 plus windows and skylights. A 20' x 50' building for $26,000."
- Non-profit, Selma, North Carolina
"I paid $21,000 for a 50' X 100' steel building with a door opening 14' X 16'." - Farm, Ellaville, Georgia
"$13,000, one 12' x 10' open and one 12' x 12' open w/ canister door and one 3070 door, insulated 4" throughout." [building add-on] - Repair shop, Acton, California
"$36,000 - man doors, garage doors,insulation, rain gutters and downspouts." - Construction firm, Hollsopple, Pennsylvania
"50' x 100' x 16' clear span building, fully insulated. 2 14' x 14' overhead doors and 1 10' x 10' premium overhead insulated door. 2 man doors, 1 double door, 4 large windows. 12 x 50 awning. Gutters, downspouts, and trim. Assembled on my pad, complete with plans. $37,000."- Marine equipment sales, Osage Beach, Florida
"$50,000 for our 30ft by 40ft metal building." - Watercraft dealer, Flagstaff, Arizona
"I paid $12,300 for a 30' X 50' X 14' high steel building with 14.5 r-value in walls and ceiling. It had a 10'x 12' insulated overhead door and a 3070 insulated walk door with all hardware included. This also included shipping for this price." - Construction, Cleves, Ohio
"$26,500 for a 50' x 100' x 14' w/ 13 windows and two 12' x 12' doors, three access doors, six skylights, two roof vents, wainscoting, rain gutters." - Energy/utility, Rock River, Wyoming
56' x 36' w/12 framed openings for doors, 3 windows, and a 26 gauge Galvalume deluxe trim package. 14' height in the front, 11' rear. Total $16,123 included tax, handling, freight, and holding till later ship date. Payment terms: 25% down payment, balance due when delivered. Choice of colors to be made later at my request. - Agricultural business, Patterson, Louisiana
"60' x 80' x 20' eaves. Two walk door kits, three 3' by 3' window kits. Three 16' by 16' rough openings for overhead doors. 6" vb insulation for roof, 4" vb insulation for side walls. Total price delivered $38,452." - Machinery sales, Saratoga, Wyoming
Prices for arch steel buildings (Quonset huts)
"We purchased a 30' x 40' P-Model Quonset style building. 1,200 square feet, for $13,000. Due to weather during the year, we opted for insulation to protect our equipment in winter seasons. " - Motorcycle repair, Smicksburg, Pennsylvania
"We ended up paying $9,749 for a 45' x 50' x 17' steel arch Quonset building with 22 gauge deep ribbed galvalume steel." - Cabinet maker, Tempe, Arizona
"Approx $7,000 - RV/trailer garage." - Construction contractor, Brighton, Colorado
"Complete kit with blue prints - $7,800. 30' x 40' Quonset hut." - Agriculture business, Portales, New Mexico
"I bought a building for $6,300 and have a contract to show the building to prospective buyers in the future. I will receive compensation if they buy a building from the company." - Manufacturer, Fountain, Florida
"$7,000. Building only with no ends." - Agriculture business, Long Bottom, Ohio
"$7,550 for 30' x 40' building, 10' x 11' opening on one end." - Manufacturing, Waterloo, South Carolina
Information was provided by BuyerZone users. Quotes have been edited for clarity only.
Ready to Compare Steel Buildings Price Quotes?