Reduce Fire And Health Risks by Properly Storing Chemicals
Combustible and hazardous liquids are commonly used in many industries, whether you work in manufacturing, agriculture, transportation, health services, or a host of other businesses. If chemical storage is part of your work, you need the right containers to store them.
Properly storing chemicals reduces fire and health risks not only to owners, but also to their employees, the surrounding neighborhood, and the environment. Here's how to store them properly and reduce the associated risks.
Segregation, isolation, and storage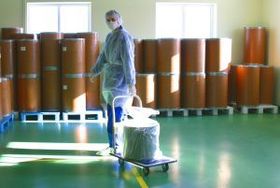 Federal and state regulations governing chemical storage are formulated to ensure they're kept safe at all times. Stricter rules are implemented for flammable or combustible liquids, whose flash points can begin at 100 degrees Fahrenheit, and corrosive substances that can severely damage surfaces and other substances with which they come in contact.
Follow these two procedures within your facility:
To prevent accidents, the first line of defense is to segregate and isolate flammable or corrosive materials in safe storage containers and cabinets. Incompatible chemicals that are dangerous when mixed should likewise be isolated and stored separately.
For added safety, containers for flammable, corrosive, and incompatible chemicals should be supported by spill berms that add another layer of protection against leaks or spills.
Types of containers
When storing chemicals, it's important to consider the type of chemical, temperature, ventilation, flash points, ignition control, and whether the container itself is made of material that is compatible with the chemical it's storing.
The five most common storage containers for chemicals are:
1. Tank containers - Generally made of stainless steel with a protective layer of polyurethane, tank containers must be built in accordance with International Organization for Standardization (ISO) guidelines and government regulations to ensure they can safely transport chemicals like gasoline. Tank containers come in different sizes.
2. Bladder or pillow tanks - These are collapsible liquid containers made of a special fabric that protects against chemical corrosion and ultraviolet rays. They come in sizes that can accommodate loads of 100 to 150,000 gallons. Because they can be easily deployed, they are ideal for military and emergency operations and oil spill clean-up.
3. Hard-top Outdoor Drums - Drums holding hazardous liquids and chemicals must be protected by a secondary container to be safely stored outdoors, and they can't be left lying down. Most hard-top drums are made of 100% polyethylene to prevent rust and corrosion.
4. Cabinets - Commonly used in hospitals and laboratories to store squeeze bottles, wash bottles, tubes, and trays, cabinets are useful because they can be locked to bar unauthorized access, especially by children.
5. Buildings - Buildings made to store chemicals are simply bigger versions of cabinets, and are especially good for storing highly flammable or corrosive liquids and powders. These buildings, commonly used by pharmaceutical companies, have a 2- to 4-hour fire rating, galvanized steel flooring, and leak-proof sumps. They are also ultraviolet and corrosion resistant.
With chemicals increasingly a part of daily workplace and domestic processes, the importance of storing them safely cannot be overemphasized. Proper handling and the use and maintenance of storage vessels and facilities that meet government standards are critical for everybody's safety and health.
Ready to Compare Storage Containers Price Quotes?