Understand Your Options for Shipping Containers
Need to send large quantities of supplies or excess materials to another location? Don't waste time and money packing everything into cardboard boxes. Instead, consider durable shipping containers that provide plenty of open space for large quantities of material.
With shipping containers, you can neatly and safely store everything from company documents and old computer equipment to excess inventory and tools. A storage container company can deliver the containers to your site allowing you to fill them to capacity. Once it's full, the company can then load the stocked shipping containers onto flatbed trucks and send it where you need it to go.
Shipping containers considerations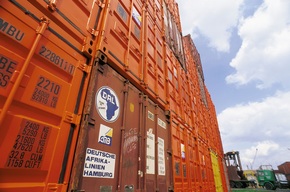 Shipping containers allow you to send goods overseas with ease.
The average 40' shipping container weighs around 10,000 pounds. In order to deliver it to your location, you need to make sure you have a 75' x 100' area of land that can support that amount of weight and provide plenty of clearance to move in and out of the container. Also, the ground must be level and firm to prevent tipping or tilting.
While you can store just about anything in shipping containers, there may be some restrictions. Different laws may prohibit shipping certain items across state lines such as flammable or combustible materials or waste. There are also specific guidelines for using shipping containers to transport livestock. Check with your local government to see what's permitted and make sure the container company is familiar with the laws.
You can add certain features to shipping containers to make storing items for transport easier. Extra man doors can be built on the sides of the container to allow you to enter the container from the sides or to move freely between two adjacent containers. Partitions can section off different areas to keep certain materials separate during shipment. Finally, a lockbox ensures your contents will remain protected inside the container until it reaches its destination.
Transporting shipping containers
When you're ready to send your shipping containers, keep in mind the total weight and where you plan to send it. Container companies will base their rates on how heavy the load is and may charge extra if they need to use extra-strength flat beds to support it. And in most cases, the further the container's destination, the more you'll pay.
Also, ask the vendor how they transport shipping containers. If the company can't send your filled container to its location via truck, they may need to ship it by boat which costs considerably more.
When you're ready to purchase shipping containers, it's important to find a reliable company that will treat you like a partner rather than a commodity. You can find vendors through your own online research, or by clicking below and submitting a free BuyerZone request for shipping containers quotes. From there, you can compare price quotes and service options and select the best one for your business.
Associated costs
What you'll pay will largely be determined by the size of the container you're shipping and its destination. But like many of the commodities involved, shipping rates fluctuate.
According to recent estimates published by Bloomberg, the cost of shipping a 40' steel shipping container overseas (from China to the west coast of the United States) was around $1,800 - up from $1,400 in the three months previous.
But those figures only represent the commercial invoice value of the shipping itself, and do not take into account the necessity of insurance. The carrier is typically liable for $500 worth of damage to the container itself (as indicated on the bill of lading). But anything beyond that will have to be covered separately.
To cover the value of your cargo (and even get reimbursed for the shipping fees in the event of a catastrophic accident), marine cargo insurance can be purchase for around 1.5% of cargo value. Though subject to deductible of $1,000 per container, this would add $1,500 for a container valued at $100,000. There is often a minimum premium, depending on the company and insurance provider, ranging from $12 to $350 per container.
Weight restrictions. It's worth noting that the above figures include weight restrictions given to a 40' container for a max load of 45,000 lbs (20,430 kg). Similarly, a 20' container is capable of holding up to 35,000 lbs (15,890 kg).
Ready to Compare Storage Containers Price Quotes?