Storage Containers Rescue Your Business from Excess Inventory
Figuring out what to do with excess stock is a common problem for business owners, but inventory storage can provide a practical and profitable solution. By storing extra inventory, you can protect your stock, get organized, use the items for future advertisement campaigns, or simply wait for a better time to try to move products.
Protection - If you have fragile, excess stock, keeping it in an open and accessible area of your business won't do much to protect its integrity while you try to determine what to do with it. Storage containers, made out of materials like steel, can provide durable housing and first-rate shielding against the elements. This type of inventory storage might also help guard your items against theft attempts, as storage containers have reputations for being impenetrable without the use of industrial tools.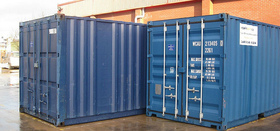 Organization - For many businesses, organization streamlines business operations and ensures that profits remain up while stress levels remain down. Keeping your excess inventory in storage containers can free your employees to work in an uncluttered environment and reduce the amount of mistakes that they make while serving customers, especially if your business offers home delivery services. With inventory storage, you'll always know where your old products are, and they won't get in the way of your current operations.
Waiting for sales events - Holding onto excess inventory can provide you with a way to make money during common sales seasons. Bringing out your old stock during the months that your industry experiences the most profits or while ubiquitous sales take place, such as the weeks before the first day of school, can help you compete against other businesses while also making sure that you move unwanted inventory. Waiting for the right time to slash prices on old stock almost guarantees instant, available room for your new items. If you find that your old stock doesn't move as quickly as you'd like it to, consider using it as a way to advertise your business. Your business' advertisement campaigns can benefit from including free pieces of stock that won't sell, but consumers still find useful.
Storing inventory for next year - Some business owners welcome excess inventory, as it can provide them with retail stock to offer consumers at a later date. Seasonal items, for example, can be great sellers during the holidays, but require immediate selling or storage after certain months. If you're a business owner who intends to keep seasonal stock on hand to sell during next year's festivities, investing in a storage container can house your stock while you wait for the holidays to come around again. You can even put your business' own decorations in storage, as well.
Additional buying information
Ready to Compare Storage Containers Price Quotes?