Storage Containers Introduction
Portable storage containers, not to be confused with storage trailers, which have wheels, are an ideal option for extra storage space. If you find there's no room left to squeeze out of your warehouse or storage areas, portable storage containers can provide immediate additional space to store anything from company records to excess inventory.
Durable and waterproof, storage containers can be used year-round in any type of weather without fear of rust or leaks. What's more, they are far less expensive than new construction, and can be delivered in a matter of days.
Use this BuyerZone Storage Containers Buyer's Guide to learn the essentials, including:
Which storage containers options are available
What to look for in a seller
How to decide between buying, leasing, and renting
How much you can expect to pay
Once you determine what your needs are, we can provide you with free custom quotes from multiple portable storage containers suppliers in your area.
Storage Sizing & Designs
Storage containers come in a variety of sizes. The most common are 8' wide, 8'6" high, and either 20 or 40 feet long, for total volumes of 1,170 cubic feet or 3,340 cubic feet.
Most businesses choose 20' containers since they provide easier access to items in the back. 40' models provide almost three times as much storage space, but may require additional doors on the back or side to take advantage of the larger space. For additional clearance, "high cubes" feature internal heights of 9'6".
Some sellers may offer containers in other lengths, such as lengths as small as 6' or as large as 54', but these specialty sizes can be hard to find, and you should be clear on the purposes for that specially-sized storage container. Specialty container heights of 45', 48', and 53' are available for domestic use only, and cannot be shipped overseas.
Storage containers are easily stackable which can be a space saver. Forklifts can easily hoist one 20' unit and place it on top of another.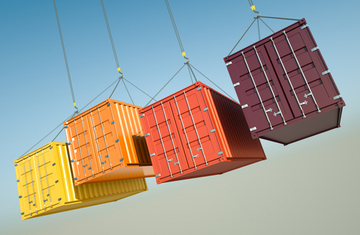 Construction and design
Storage containers are constructed with 12- or 14-gauge corrugated steel sides, doors, and roofs. The floors are made from marine-grade plywood that is just over one inch thick and can withstand 16,000 pounds of pressure per 100 square feet. Manufacturers weld the containers together using an elastic sealing compound to ensure they are air and water tight. This heavy-duty construction meets ISO construction standards and most models are both weather resistant and fireproof.
To protect contents from theft or vandalism, swing-out doors at either end of the container feature galvanized interior locking bars, similar to bank vaults. In addition, cam rods and padlock hasps secure the unit to protect the contents after hours.
While most commercial storage containers feature steel construction, other types of portable storage solutions are made from wood and fiberglass. While suitable for personal use, they may not be sturdy or reliable enough for regular business use.
Installation and zoning
Average 20 foot containers weigh 5,000 pounds and 40 foot containers weigh 10,000 pounds. Both are delivered by flat tilt-bed trucks or trailers. While they can rest on any surface from rough gravel roads to smooth concrete, it's required that you reserve a 75 foot by 100 foot area of land that is both level and firm. The level ground prevents the container from tilting or tipping, and the large area provides the truck with plenty of clearance to move in and out of the unit.
Be careful if you plan to use storage containers for long periods of time. Certain cities view storage containers as "dumpsters" and may require a special permit or official approval for long-term use. If you plan to keep storage containers on your premises for several months or longer, check with your local government to avoid violating any zoning laws.
Zoning and permits vary by city and/or county, and change frequently. If you are buying a storage container, you must do your due diligence to find out the current law. If you are renting, the rental company should be up to speed on the newest regulations.
Common industrial uses
Different businesses have various needs for storage containers. Here is just a sample of how certain industries use them:
| | |
| --- | --- |
| Industry | Portable Storage Container Uses |
| Department stores, pharmacies, supermarkets, hospitality, food service | Excess inventory, paper records storage, seasonal and holiday needs |
| Construction, landscapers, home improvement | Equipment, machinery, supplies, temporary office space |
| Residents, property owners | Tool shed, household goods storage, home furnishings, non-perishable food supplies |
| Truckers, utility companies, financial institutions, insurance companies, film production | Document storage, raw materials |
| Medical facilities, military, government agencies, Native American reservations, academic institutions | Disaster preparation supplies, temporary bunks/shelters, security offices, athletic equipment storage |
---
Depending on what you plan on storing inside, a storage container can be equipped with a variety of upgrades to enhance convenience, security, weatherproofing, and even appearance. Get the most for your investment with popular add-ons.
---
Storage Container Popular Add-ons
Some sellers may offer some of the following options to increase your container's functionality:
Paint: New or "one trip" storage containers come in neutral factory colors like beige or gray. Used containers come in a rainbow of bright colors. If the container is going to be in a highly visible location, you may want to have it painted in custom colors or even with your corporate logos.
Lockbox: Fireproof steel strongboxes provide increased protection for the container's contents.
Alarm system: For additional security, a monitored alarm system can alert authorities to a potential break-in.
Shelving: Adjustable shelves help you organize your contents.
Man doors (side doors): These additional doors are built on the side of the container to allow people to enter at the middle of the unit (instead of just the end), are helpful for longer units. They can also provide access between two adjacent containers.
Ramps: Angled foldable walkways allow you to easily wheel hand carts into the unit. To avoid blocking the door, do not prop the ramp directly against the container.
Ventilation: Wind turbine and louver vents allow air flow into the container to reduce humidity.
Partitions: Separate the storage container into sections to create compartments for different uses (example: storage in one part, office space in the other.)
Additional insulation: Protects your belongings in harsh weather conditions and contains heat and cool air year-round.
HVAC: Provides heating, ventilation and/or cooling to regulate temperature.
Although some businesses use storage containers as office space, complete with electricity, plumbing, and Internet access, they're not the best choice for long-term use. Unless you only need the office space for a few weeks, you're probably better off with an office trailer.
---
The most important part of the purchase decision: locking in the best price. And this step actually takes place in two parts – choosing a qualified seller and negotiating a cost-effective rate.
---
Choosing a Storage Container Seller
The portable storage and shipping container industry consists of both large and small companies that resell units from wholesalers, leasing companies, and industry associations. The sellers may deal exclusively in storage containers or offer them alongside other purchases such as office trailers or prefabricated construction.
While it doesn't matter what size seller you work with, there are certain attributes to look for before making a purchase.
The most important point to consider is proximity. Delivery charges are based on distance, and it's the most competitive aspect of the industry. It's recommended to select a seller as close as possible to your location, as shipping prices can quickly become prohibitive.
Working with a local seller provides an optimal opportunity to check out seller's inventory in person. By taking a tour of the facilities, you get a better feel for how they work than you would by ordering through a catalog or over the phone.
Ask questions to learn how knowledgeable your seller is about the industry. If they've been in business for several years, business longevity is usually indicative of great customer service.
If you need help selecting from several sellers, you can narrow the decision process by asking each seller for a list of references. Try to request references in businesses similar to yours to find out how the sellers addressed their storage needs. Be sure to ask questions like:
Did you have budget concerns that the seller helped you with?
Did you need any add-ons such as ramps, shelves, or a lockbox?
What condition was the container in when you received it?
How much additional cleaning/prep did you need to do to make it ready?
Did you get billed for any unexpected charges?
How long did it take to get your container?
If you had any problems, was the seller quick to address them?
Would you work with this seller again?
---
Carefully review the following cost estimates so you know exactly how much is too much, whether it makes more sense for you to buy or lease, and where you can push for lower fees.
---
New and Used Storage Container Pricing
When you're ready to get a portable storage container, you have three options:
Purchase: If you will use the container for years and can afford it, buying is usually the best option. Plus, if you no longer need them, storage containers depreciate slowly so you can resell them without losing much value.


Rent: This is the most affordable option for a few days or weeks at a time. Renting allows you to deduct the fees from your taxes, but can get expensive if you keep the unit longer than expected.


Lease to own: A good choice when you'll need the container long-term but don't have the cash up front. It allows you to spread costs over a period of time and then purchase the container with a final nominal payment. However, you'll have paid considerably more than the purchase price because of the interest.
Before you purchase containers, consider how quickly you need them. Some sellers may offer same-day delivery on containers they have in stock. More often, they'll deliver your container in one to three days. Keep in mind that adding features will take longer - and cost more. Find out what other BuyerZone users found for storage container prices. Also know that you can choose between new storage containers and used storage containers.
Transport fees
Shipping costs will depend on distance and total weight and can add considerably to your total expenses. Expect to pay between $80 and $500 for delivery in town, taking into account traffic. Delivery costs hike up quickly depending on the distance, especially if you are in the Mountain Time zone. Besides the west and east coast rail lines, Dallas and Denver are the only mid-west outlets. Sellers may require a minimum shipping fee regardless of distance, and may have a maximum of 250 miles.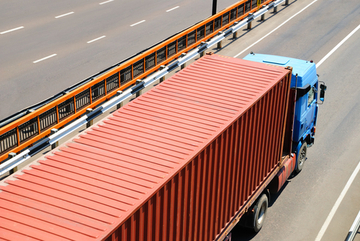 New/One-Trip containers
New containers are more accurately referred to as "one trip" containers. This is because they make one trip across the ocean before being sold. You can find a basic new/one-trip 20' storage container from $2,800 to $3,400. The 40' storage containers run about $4,900 to $6,000; 40' high cube containers are priced from $5,000 to $6,200.
If you need to buy two or more containers, many sellers may knock a few dollars off the price or lower your transport costs. Sellers charge an hourly rate of $50 to $150 for customizing your container, plus the cost of materials. You could pay hundreds of dollars for basic add-ons like shelving or ramps, up to thousands of dollars to convert containers into office space.
Used storage containers pricing
While new storage containers can cost several thousand dollars, the pricing is more palatable for refurbished containers. Sellers buy pre-owned units, fix them up, replace any broken parts, ensure they're water tight, and may apply a fresh coat of paint. Some sellers abstain from painting since some customers want custom paint colors. The refurbished containers look better, although paint does not cover up dents, and you pay about 30% to 50% less than you would for a new/one trip container.
The price for a 20' used container ranges from $1,900-$2,400; 40' used containers cost $2,600-$3,300, and 40' High Cube used containers will set you back $2,700-$3,400. Lower end units might include "as is" containers with few add-ons and no guarantees against water or fire damage.
At the high end, the containers are fully reconditioned and feature all the functionality of a new/one-trip model. The higher price may include the seller's cost of acquisition, trucking expenses, and repair and sealant costs.
Leasing and rentals
Short-term rentals are far more common than leasing because most customers expect to use their containers for 1-6 months. Rentals cost $3 to $8 per day, and the length terms are flexible.
Rental agreements usually require one month minimum, with monthly billing after the first month. Most companies will pro-rate the last month.
Leasing may be beneficial if you need several containers for a long period of time. The average lease runs for 24 months or more. Monthly payments range from $75 to $150 depending on the condition and age of the container. When leasing, many sellers offer lower monthly rates for longer lease periods. Whether leasing or renting, the customer is responsible for delivery and pickup charges.
---
There are a few additional tips to keep in mind when comparing storage containers. And they all boil down to one universal truth: you get what you pay for.
---
Storage Container Buying Tips
You get what you pay for. Although storage containers can get expensive, don't skimp on quality just to save a few dollars. You may be able to buy an "as is" model for a few hundred dollars, but the container will have rust, sealant cracks, dents, and missing pieces of the floor, that can damage your contents. The additional money you pay for a quality container is a small price to pay to avoid problems later on.
Born on dates. Storage containers are numbered according to shipping standards which have a prefix (4 letters), the container number (6 digits), and a check digit (a number inside a box.) You'll find this container number on each side of the container, on two locations on the roof, and inside the door. The steel plate on the container has the manufacturer date on it, aka the "born on" date.
Space considerations. For a 20' storage container, you need at least 75 feet of clearance for delivery, installation, and to maneuver in and out of the container. You need at least 100 feet of clearance for 40' units. The ground must be level, relatively flat, and firm. Hills and/or mucky mud could cause the truck to get stuck, and the customer would be responsible for the tow.
Safety first. Drivers typically won't deliver to areas where they have concerns for their own safety, or if they feel they may inadvertently cause property damage they would be responsible for.
To prevent a wasted trip, customers should send a photo of the space and a photo of the access (such as the turn-off and the driveway) to the space. The driver and vendor can then determine if it's appropriate and safe access for the storage container to be delivered.
Learn more about containers. For additional information about the storage container industry and to research best practices, check out industry association web sites like the National Portable Storage Association.
Ready to Compare Storage Containers Price Quotes?