7 Cheap Postal Scales Under $60
We know you like to save money any way you can, especially on postage. And we hate to be the ones to break this to you. But you know that little postage scale you've been considering? Sure, it's a small purchase, but if the scale component is inaccurate or unreliable, it's going to get costly – often to the extreme when evaluated over the life of the scale.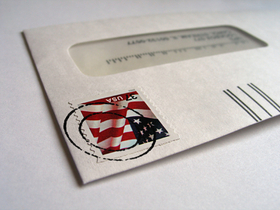 If your business requires high volume shipping, there are a number of cheap postal scales available online, priced at $60 and below, that can get the job done. Here's a list of popular brands and models based on a cross-section of positive consumer reviews:
1. Royal DS3 Postal Rate Scale
If you're looking for a cheap postal scale that simply does its job without the bells and whistles, this is a good choice. The Royal DS3 features a digital readout that displays weight in ounces and pounds, and has a weight capacity of 3 lbs, making it ideal for weighing postcards and letters. Battery-operated, the device has a "hold" feature which allows you to check the weight even after removing the item from the scale. It also has a built-in "tare" function so you can easily set it to determine the weight of the items, excluding the container. The Royal DS3 also comes with a Postal Rate Chart for reference, an $8 to $10 value.
Available as low as $22.95 - $29.95 (MSRP $39.99)
2. USPS 10-Pound Electronic Calculating Scale (PS100)
With a weight capacity of 10 lbs and a platform that measures 5.5" x 5", this compact scale can weigh an extensive range of letters and small parcels with ease. It also has a large 1.3" LCD display and features a flip-top easel to accommodate large envelopes. Plus, it's great for those who need to switch between locations, operating on either AA batteries or AC adapter.
Available as low as $32.99 - $42.99 (MSRP $59.99)
3. Dymo M5 5-Pound Digital Postal Scale (1772056)
The DYMO M5 Postal Scale allows you to weigh envelopes and packages up to 5 lbs and includes a "hold" feature that locks weight display for 10 seconds – great for weighing larger items that obscure the screen. It also includes a "tare" function that automatically subtracts the weight of a container. Easily taken from location to location, the M5 runs on 3 AAA batteries and includes an automatic shut-off that saves the batteries when not in use.
Available as low as $26.99 (MSRP $39.99)
4. USPS 30-Pound Digital Calculating Scale (PS30USB)
Great for home business and corporate offices alike, this official USPS machine can be used to weigh letters and small to medium packages weighing to up 30 pounds. It features three power options: battery, USB, and adapter. Plus, it's one of the few models in this price point that features a hinged platform, allowing you to weigh mailing tubes and large envelopes with ease.
Available as low as $54 (MSRP $89.95)
5. WeightMax 75-Pound Postal Scale (W4819)
This postal scale can be used for home, office, and even warehouses. With a maximum weight capacity of 75 lbs, this digital scale features a fold-up stand to easily accommodate mailing tubes and oversized envelopes. Measuring units can be configured to reflect kilograms/grams, pounds, and ounces. It comes with an A/C adapter but can also be powered using 9-volt batteries.
Available as low as $21 - $27 (MSRP $49.99)
6. My Weigh Ultraship 75-Pound Shipping Scale
If you're looking for a cheap postal scale that can hold heavier parcels, this machine presents a practical option. It has a maximum weight of 75 lbs with 0.1 oz resolution. It also comes with a digital remote weight display with a 3-foot long digital cord. This makes it easier to check the weight readout when weighing large packages. Additional features include "tare," "hold," and "auto-off." Plus, it comes with add-on value items that include a letter tube holder and mail/envelope holder.
Available as low as $32 - $45 (MSRP $89.99)
7. Royal DG200 Shipping Scale
Are you an eBay superstar? This is the scale for you. The Royal DG200 is a compact yet heavy-duty shipping scale intended for small- to medium-sized businesses. Its weight capacity and affordability make it ideal for mail rooms, mail order, or internet resellers. Capable of displaying weights in pounds, ounces or kilograms, the DG200 also includes a remote display for reading the weights of larger packages, a built-in "tare" feature for accurately weighing objects in containers, and a durable steel weighing platform.
Available as low as $39.98 (MSRP $69.99)
Not sure which scale is right for you, or want to compare options from multiple providers? Use BuyerZone's request for quote service to be connected to multiple dealers who can meet your needs.
Ready to Compare Postage Meters Price Quotes?