Mailing Systems Keep Your Office Organized
A mailing system is designed to help offices process mail more efficiently. Today, it's possible to purchase an entire mailing system in the form of a postage meter, which can include the stamp machine, postage scale, and depending on the model might also be able to perform additional acts such as feeding, sealing, and printing labels.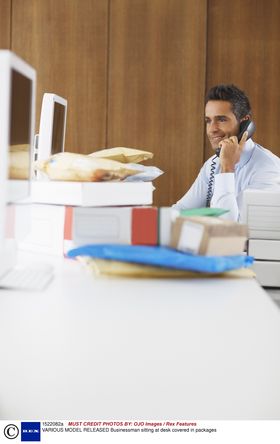 The most basic component of a mailing system is the postage meter. Postage meters are a welcome addition to any office that sends even a relatively small amount of mail: metered mail has a professional look, is convenient, and can save you money. You can also end those annoying last-minute runs to the post office.
Previously, a mailing system entailed purchasing a postage meter, scale, and other accessories that would help speed up the mailing process. Today's postage meters from top companies like Pitney Bowes and Hasler actually include built-in a postage scale.
Types of mailing systems
If you're shopping for a mailing system, chances are you've heard of one of more of the following brands. Each of these brands offer mailing systems in several different models, each catering to different needs -- some designed for businesses with low-volume mail production, others for larger businesses that need faster machines, and still more for businesses that need a full spectrum of features like a feeder and envelope sealer.
Do you need a mailing system?
If you spend more than $50 per month on postage, your office will almost certainly benefit from having a postage meter. It's important to know that postage meters cannot be purchased. Under federal regulations, they can only be leased. Other parts of the postage system can be purchased, but ownership of the postage meter itself is strictly controlled.
Mailing systems usually include more than just a basic postage meter. Typically, they include: feeders, sealers, label printing, scales, and more. Newer mailing systems include digital postage meters. Other components of mailing systems that are generally separate pieces of equipment include letter folding equipment, openers, and inserters.
It's important to note that almost all of these features can be attached to a postage meter: much like digital copiers, postage meters can handle a wide range of tasks. For example, mailing systems with an automatic feeder can meter large stacks of envelopes at speeds of over 200 per minute.
Ready to Compare Postage Meters Price Quotes?