Introduction to CD Replication
Want to make a few copies of a CD or DVD? Just use the burner on your PC. But producing hundreds or thousands of copies would take countless hours. Make the smart choice - turn to a professional CD production expert that can have your media mass-produced in a matter of days.
Duplication and replication services use high-tech equipment to copy your video, audio, or data files to CDs and DVDs. The equipment monitors the process, guaranteeing that each copy is an exact replica of the master with no errors. CD duplication sellers can print artwork onto the discs, customize the packaging, and ship the finished products to your office or customers.
While the finished product may be the same to the end user, there are two different ways to produce multiple copies. Duplication burns the data onto a recordable disc's surface, while replication uses a glass master to stamp the data onto discs. Duplication is generally used for small print runs of 500 to 1,000. Once you need more than 1,000 copies, it becomes more cost effective to replicate your discs.
Who uses duplication or replication?
Any business needing fast, accurate CD or DVD production can benefit from duplication and replication services. Film producers, video game developers, musicians, software manufacturers, graphic designers, marketing companies, and professional speakers rely on these services to create discs for sale, direct mail, and distribution.
This BuyerZone CD and DVD Replication Buyer's Guide will help you:
Prepare your material for production
Understand both services
Learn which services and features sellers offer
Decide how to choose a seller
Learn about pricing
Once you know how the industry works, let BuyerZone connect you to CD/DVD duplication and replication sellers that will compete for your business.
---
Before you start comparing the specific features of the service and talking to sellers, your first step is to make a comprehensive list of your needs. Covering a wide range of topics that range from copyright and other legal considerations to timeline and budget, this is a crucial first step to ensure you get exactly what you need (and at the best price).

Get started here.
---
Purchase Considerations
It's important to carefully assess your company's CD or DVD copying needs before you seek a CD duplication services seller. Answering these questions up front can help set expectations when you're ready to purchase.
How quickly do you need to reproduce your media?
Turnaround time is an important early consideration for CD duplication services. Projects typically begin on "day zero" - the time you submit your data to the seller - and can take 1-12 business days to complete, depending on your requirements.
How many copies do you want?
The tipping point between using duplication or replication is 1,000 copies. Below 1,000 copies, you can use duplicatio, which is a faster and cheaper process for small runs. Orders over 1,000 copies require replication, which carries higher setup costs but quickly becomes the better value at large volumes.
Do you want CDs or DVDs?
The primary difference between the two is the amount of data each media can hold: DVDs can hold more than 7 times the data of a CD. DVDs are also better suited for high-quality video and audio, but they're also more expensive. CDs are more affordable and best for documents, graphics, presentations, and short video clips. You also have to consider your audience - if you're unsure they can play DVDs, you may want to stick with CDs.
Do you own the copyright?
Vendors are required by law to screen content for copyright ownership. Reputable CD duplication services sellers have strict policies regarding copyrighted material and will require documentation proving you either own the material or have a license to reproduce it before they will begin your project.
Can I afford duplication and replication?
You can find complete CD or DVD packages, including duplication of 300 to 500 copies, artwork, packaging, and assembly for a few hundred dollars - about 50 to 75 cents per disc. The low cost of entry allows you to test the service and review the quality without spending a lot of money.
Which additional services are available?
Services can range from the simple (silkscreen printing onto blank media for future use) to the complex (mastering a DVD with chapter points, menu options, and embedded video) to the unusual (printing business card-shaped CDs or unique die-cut designs.) The only limits are your budget and your creativity.
Can you provide the artwork?
Vendors can use your graphics and logos for the disc and packaging if the files are in a format they can work with. If you need assistance, sellers can create artwork at an additional cost.
How do you want to send the data to the seller?
Once you create a master copy of your data, you can upload files directly to the seller, or mail them along with your order specifications. It may be easier to ship lengthy content or complex video by mail.
---
Your next step is to take the quantity estimates from above and fit them into one of two processes: duplication or replication. The total number of copies you need will determine which service is right for you. Here's how the numbers break down.
---
CD Duplication vs. Replication
If you're uncertain how to choose between duplication and replication services, don't worry. The decision is made for you once you know how many copies of CDs or DVDs you want. If it's hundreds of discs, it's duplication. If it's thousands, it's replication.
While the differences between duplication and replication services are significant, you'll actually find a considerable number of similarities between the two:
The quality of the completed discs is about the same.
Both services are automated on highly precise equipment.
You can choose all the same packaging and additional services you want.
Both feature in-line inspection to ensure there are no errors.
Vendors can provide finished proofs before a production run to see if they meet your standards.
Where they differ the most is quantity and process.
Quantity considerations
Duplication is reserved for 200 to 1000 copies of CDs or DVDs. Most sellers won't accept orders for fewer than 200 discs but you may be able to find an online seller that accepts small quantities. Since larger workloads are taxing on duplication equipment, this service gets expensive beyond 1,000 copies.
Once you need 1,000 or more copies, your media needs to be replicated. Creating the glass master requires a larger initial investment, but once complete it can be used to make as many as a million copies in an automated print run. Even at runs of several thousand copies, the volume discounts make replication much cheaper than duplication.
Process considerations
Duplication machines burn exact copies of a master recording onto blank recordable discs using a laser process - similar to a standard PC burner. The turnaround time for duplication services is generally quick - you can get your finished discs within 3 to 5 days. If you need faster turnaround, sellers may offer rush services, but they can add as much as 50% to your total costs.
Replication takes about 5 to 12 days, depending on the drive speed, amount of data, and any additional services you request. After a print run, the seller can recycle the glass master or let you keep it, but the master can only be used for future replications on the seller's machines.
Once the discs are created, artwork can be added to the surface using a silkscreen or offset printing process.
In-house duplication
Businesses with frequent duplication needs such as design companies, ad agencies, software startups, and post-production houses may want to bring the duplication process in-house.
A basic disc duplication machine starts at a few hundred dollars, with fully-automated systems reaching several thousand dollars. Keep in mind that while you may save money by performing your own duplication, services such as printing, packaging, mastering, and assembly may all add to your total costs.
If you need to regularly produce batches of more than 1,000 discs, you'll need to work with a replication seller: replication equipment is far too expensive for most businesses to own and operate.
---
In addition to saving you the time and labor associated with making thousands of copies of a disc, replication sellers can also package and prep your kits for mailing or distribution. These professional services are well worth considering, especially when large quantities are involved.
---
Printing and Packaging Your CDs/DVDs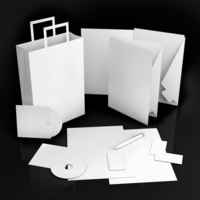 Once you decide how to produce your discs, you then have to decide how they're going to look and how you want to package them.
CD/DVD printing options
Vendors generally offer three ways to print the front of your discs. Silkscreen printing is the most common. This works by pressing one color at a time through screens. The quality varies based on the number of colors used.
For highly detailed artwork and photographs, offset printing offers the best resolution. Unlike other print methods, it allows you to print edge to edge on the disc's surface. While offset printing is often the most expensive, some sellers offer it as part of replication services.
At the low end, a thermal printer can apply basic text and graphics in black or a single color. This is best when you're less concerned about presentation or on a tight budget.
Packaging options
Most CD/DVD sellers will provide basic packaging for your discs, typically plain envelopes or spindles, although jewel cases or printed cardboard sleeves may be included in your price. You can upgrade your packaging by purchasing high-quality jewel cases or colorful cardboard mailers for CDs, or clamshell style "Amaray" cases or sturdy "Digipaks" for DVDs.
If you plan to sell your discs or distribute them to clients, you probably want them to look professional with full-color packaging and your corporate branding. Vendors can provide full-color artwork for the packaging and inserts to enhance the presentation. You may want to include a booklet containing detailed information, or a tray card or inlay to add visual punch. Whatever your goal, the seller can work with you to suggest options that can bring your vision to life.
Assembly
Assembling your finished media is typically an automated process that packages together the different pieces you chose. Once assembled, the discs are shrinkwrapped for resale or distribution. If you choose special packaging that needs to be assembled by hand, you'll be responsible for additional charges.
---
Next, check out an overview of some of the most popular CD/DVD replication support services, enabling you to practically remove yourself from the process entirely once you find the right seller.
---
Extra Features & Services
Sellers can offer additional disc duplication features to enhance your CDs or DVDs as well as services to help you track sales and promote your offerings. Some of these may be included in package deals, but sellers typically charge extra fees for each option. (See Pricing for more detailed information.)
Enhanced CD services: Enhanced content (or E-CD) is a disc duplication feature that uses the remaining space on audio CDs to include multimedia features like short video clips, screensavers, and interactive games.


CD Mastering: This is the final step in the recording process for music CDs. Sellers can balance the sound, fade in and out of tracks, and add sound effects to give audio recordings a professional feel.


DVD Authoring: Similar to CD mastering, DVD authoring adds region encoding, menus, chapter points, and background video clips. You can also add extra features like links to your web site, screensavers, and PDF documents.


Inventory Tracking: If you are going to sell replicated CDs and DVDs, you can track inventory and sales by printing a bar code on the back of the packaging.


Fulfillment Services: Instead of shipping the discs to you, some sellers offer drop shipping, where they house the inventory and ship directly to customers as orders arrive. You pay a fixed shipping rate (typically $4 to $5 per unit) plus actual postage costs. While this reduces your overall profits, it saves you time and overhead costs and allows you to quickly get product out.
Other disc duplication services:
To protect your material against unauthorized duplication, you can order copy protection for audio CDs and video DVDs.


A set of promotional tools such as posters, flyers, and order cards can be packaged with your discs to further your brand and encourage future purchases.


If you want a truly unique look for your media, a seller can customize the size and shape of your media with mini DVDs, business-card shaped CDs, or unusual die-cut shapes.


If you do your own duplication, you may want to use print only services that will print your custom artwork on blank discs before you record them.
Most sellers do the reproduction, print work, and packaging in-house. This assures better quality control and faster turnaround. While outsourcing does happen, the seller should stay involved in the entire quality assurance process to ensure your project goes smoothly.
---
While just about anyone can copy a disc for you, it takes a special kind of experience to do it in quantity while retaining quality - faulty discs are not only a waste of money, they make you look bad in the process.
---
Choosing a CD Reproduction Seller
The CD reproduction industry isn't heavily-regulated - any company can place an ad in a newspaper, provide a phone number, and present themselves as "CD DVD reproduction experts." However, it doesn't mean they have the necessary equipment, experience, or customer service knowledge to do a good job.
Generally, there are three types of companies that offer duplication and replication services:
CD reproduction brokers - Brokers work closely with you to learn what you want, then match you to the most appropriate replication company. While brokers can usually locate the lowest price, they don't emphasize customer service so you'll have to perform your own due diligence.


Manufacturers, part-time replicators - CD reproduction equipment manufacturers have access to the best tools, but they may have to outsource printing, packaging, and assembly work. Other businesses may provide replication as an add-on to their typical offerings. While these companies offer cost effective reproduction services, they may not provide the level of customization you need.


Dedicated reproduction specialists - These companies primarily focus on the complete suite of duplication and replication services and their industry experience can help you learn what works best for your business. While you'll pay a premium to work with dedicated sellers, you'll receive more direct customer service to help find the right solution.
Regardless who you work with, make sure the seller can walk you through your options and match you with the best options to fit your needs.
Comparing sellers
Make sure you meet with multiple sellers before making a decision. By submitting a free request for quote for CD/DVD duplication and replication services, you can connect with up to five different CD reproduction sellers, compare their quotes and services, and select the best seller for your business.
When you investigate sellers, look for those with experience. Longevity is usually a sign that they know how to keep customers happy. Also, since they have been in the business for a long time, they know what it takes to adapt to change in a fast-past industry.
One basic way to compare sellers is to check out their web sites. Each site should feature details on the different products and services offered, approximate turnaround times, and pricing basics. Some seller sites even provide helpful tools like interactive demonstrations on how the replication process works or templates to easily submit your artwork. You can also see samples of finished products.
Since many sellers offer package deals for a few hundred dollars, it may be worth the investment to buy a small quantity to test the service and review the quality. You can then gauge the seller's customer service and quality assurance policies to see if they're the right fit for larger, more customized orders.
Reputable sellers will guarantee their products and services, but not turnaround time. By promising an exact date, they would leave little wiggle room for potential problems that could emerge during production. Instead, sellers generally provide a range (3-5 days; 10-14 days, etc.) so they're not tied down to a specific date.
Never base this or any purchasing decision on price alone. Quality is almost as important as the amount you pay. One of the biggest mistakes you could make is to select a less experienced seller simply because he offered the lowest price. You could receive a poor product that wastes time and money and damages your company's reputation. In addition, make sure to get all project details in writing so there are no surprises on your final bill.
One factor that may not be indicated in the price is the level of customer service you'll receive. Since you're entrusting the seller with your critical information, you have to feel confident that you'll receive top customer service before, during, and after a project. Find out such things as:
Do you provide customer service by phone? Through email or online chat? At what hours?
Will you let me know early on if there is a problem?
Can you provide suggestions for saving money that won't impact quality?
What will you do for me if the work isn't up to my standards?
Can you provide me with a list of references?
CD & DVD Replication Pricing
Vendors offer two pricing methods for CD DVD replication and duplication services. You can either pay a per unit rate based on the number of discs and the services you choose, or a fixed rate for complete packages that include the disc cloning, disc and insert printing, and packaging and assembly.
All sellers should include a master proof for you to sign off on before CD DVD replication starts, as well as comprehensive quality assurance during and after reproduction. Also, make sure to budget for shipping costs, which will vary based on the size and weight of your order and destination.
Per unit costs
Duplicating 200 to 1,000 CDs can cost $0.50 to $2.50 per disc for the duplication service, disc printing, and delivery in plain paper sleeves or on a spindle. DVD duplication will cost around $0.70 to $5, including the same basic services. The variance in pricing depends on the quantity of discs you order and the quality of printing.
If you need more than 1,000 discs, expect to pay $0.35 to $0.79 per disc to replicate CDs and $0.80 to $2.50 to replicate DVDs. While the per-disc cost is much less, some CD DVD replication sellers charge additional fees for the glass master and replication setup, adding $100 to $500 to your total costs.
Since prices are so closely tied to volume, it's usually worth asking how many more discs you'd need to print to get a better price break. Rates may drop considerably with a larger order, and you may find future use for the extra copies.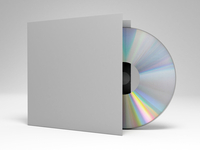 Packaging options such as full-color cardboard sleeves, jewel cases, printed inserts, and shrink-wrapping can each cost an additional $0.10 to $0.40 per unit. See below for details.
For example, a typical low-end package might include 1,000 replicated CDs, 3-color on-disc silkscreen printing, 2-panel CD insert, full color tray card, jewel cases, assembly, and shrink-wrapping, all for around $750 to $1,000 (or $0.75 to $1.00 per disc) plus shipping. For a similar package deal for 1,000 DVDs, expect to pay about $1,000 to $1,500 (or $1 to $1.50 per disc.)
Other services
In addition to the reproduction and packaging options, sellers provide other services to enhance your disc performance or get the finished product in your hand quicker:
Enhanced CD (E-CD) - $400 to $500 for a short video clip, splash page, multiple photographs, web site links, and a company biography. $10 to $175 for each add-on (digital photos, screen savers, a branded MP3 player.)


CD mastering - $100 to $300 per project (fine-tuning audio production)


DVD mastering - $100 to $1,000 per project (interactive menus, chapter points, region encoding, and video thumbnails.) $200 to $300 for each add-on (slide shows, director commentary, closed-captioning, and multiple language support.)


Extended play DVD - $1.75 to $3.25 for a DVD-9 (dual-sided) or DVD-10 (dual-sided and encoded to play in different regions)


Print to blank media - $0.50 to $0.70 per blank CD with silkscreen printing; $0.75 to $0.90 per blank DVD


Design services - $50 to $100 per hour (or $100 to $500 per project) for disc and packaging artwork


Rush orders - $800 to $1,300 to receive project 1-5 days ahead of schedule


Premium media (Blu-ray or HD DVD) - $2,500 to $5,000 for setup costs plus $1.35 to $2 per unit (may not be available from all sellers)
Additional packaging pricing
The following is a sample of different packaging and design options you could add to your duplication or replication order. All prices are on a per unit basis:
Complete package costs
Some sellers offer "retail-ready" packages - fixed numbers of finished CDs or DVDs, pressed, printed, and packaged for immediate distribution. These packages afford you a complete solution at a fixed rate, but you'll either be limited to what the seller includes in the package, or you'll have to pay extra for substitutions.
Printing upgrades: $0.45 to $1.50 (CD); $0.65 to $1.80 (DVD)
Custom disc shapes: $1 to $2.75
Jewel cases (standard or slimline): $0.20 to $0.30
Individual paper sleeves: $0.12 to $0.15
Vinyl sleeves: $0.20 to $0.25
Plastic CD cases: $0.35 to $0.45
Dual media jewel case (one CD and one DVD): $1.70 to $2.50
Full-color CD sleeves (with assembly): $0.20 to $1
Amaray DVD cases (with printed inlay): $1 to $1.25
DVDigipak (thick cardboard folder with on-surface printing): $1.40 to $2
Full-color front CD insert: $0.20 to $0.35 (2-panel); $0.35 to $0.50 (4-panel)
CD booklet: $0.75 to $1 (2-panel); $1 to $1.50 (4-panel)
Tray cards (for the back of CD jewel cases): $0.45 to $0.80 (1-2 sided printing)
Assembly and shrink-wrapping: $0.12 to $0.25
Fulfillment: $4 to $5 (plus actual postage costs)
Ready to Compare CD DVD Replication - INACTIVE Price Quotes?