The Breakdown Behind B2B Marketing Lists
If your company sells to other businesses, you deal with an entirely different sales paradigm than B2C firms. Accordingly, the marketing list that will serve you best is different in several ways.
B2B List Breakdown
B2B lists let you choose the people you contact with exceptional granularity. For example:
Job titles: Your sales strategy probably targets specific executive titles: the chief financial officer, the director of information technology, or the human resources manager. B2B marketing lists are designed to give you access to executives by title and by job function.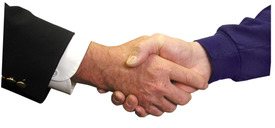 Company size: You'll find that B2B lists segment their contacts by number of employees, sales revenue, asset value, square footage of the company's facilities, and other factors that let you reach companies you consider to be ideal candidates.


Industry specialties: B2B lists identify contacts according to their line of business. The company's SIC code (Standard Industrial Classification) or the more granular NAICS (North American Industry Classification System) is included in virtually every B2B list so you can zero in on your most desired industry.


Specialty criteria: Perhaps the greatest value of most B2B lists is in the extraordinary detail they carry. You can select your contacts based on the criteria noted above as well as highly specific criteria that vary by industry.

These can include, for example, the number of PC's in use at a company; the number of phone lines or T1 lines in use; the number of software developers, aviators, attorneys, or engineers employed; women professionals; buyers of training material, office supplies, manufacturing equipment, and countless other criteria.
How to Choose a List
As we've noted in this series, your best guide into this forest of data is a list broker. It's important that you explain your business to him or her and that you discuss why you want to rent a marketing list.
The type of list you rent, whether it be telemarketing, e-mail, or direct mail, will have an impact on your ROI. Likewise, the goal of your campaign--prospecting for new accounts, driving traffic to your website to stimulate direct orders, seeking new subscribers to your newsletter--will all have an effect on your financial results.
According to Chief Marketer, for example, marketers achieve the highest response rates with telemarketing campaigns, but they see the greatest ROI with e-mail marketing. Other stats to note include the following:
Direct mail sent to new prospects brought response rates in the 1 percent range.
Prospecting e-mail enjoyed an 11 percent open rate but less than .5 percent click-through.
Telemarketing produced more than 8 percent response when used as a prospecting tool.
As you can see from these samples, your choice of list type can have a huge impact on your results. Make sure to check back for part three in this series: Marketing Lists & Measuring Campaign Results.