Outbound Telemarketing Services Helps You Grab the Sales Funnel by the Neck
Outbound telemarketing for business to business (B2B) or business to consumer (B2C) is not an easy task for your sales department. Your best sales people should be closing deals, not pre-qualifying potential customers.
If you are a business owner, you have several options. You can operate an outbound telemarketing campaign for lead generation in-house, or you can outsource it to a company offering telemarketing services. The direction you take will really depend on your available resources, budget, skills, facilities, and more. Of course, you also have to weigh the benefits and risks of operating a call center in-house versus tapping another company to do it all for you.
One Size Does Not Fit All
When it comes to B2B and B2C lead generation, the view that one size fits all does not apply. If your marketing team has this in mind, or if this is the view of the telemarketing company you are negotiating with, you are in trouble. This way of thinking demonstrates a lack of awareness about your target market.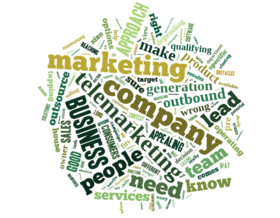 You need to distinguish between B2B and B2C marketing. B2C is practically what you see all around you: TV ads, billboards, and Web banners. A B2C approach is appropriate if you want to reach a bigger consumer population. This approach appeals to food chains, toy companies, or cosmetics companies.
B2B marketing is more specific. With this approach, you need to anticipate a long discussion between your team and the buyer before reaching a decision. In this context, building a good relationship with the prospect is critical. Lead generation in B2B marketing is not just about getting in touch with the decision maker. Your team must be able to acknowledge that the contact represents a company, learn about the business, and see how you can help it with specific needs. Some examples of this include business process outsourcing, large-scale suppliers, and software enterprise solutions.
Obstacles to Overcome
Once you have considered your marketing options, remind your team of the obstacles they might encounter along the way:
Wrong approach: Your team must know the context of your products and services so they know what sector of the market will need them. Not knowing the product by heart just means wasted time and resources.
Outsourcing to the wrong company: Remember that a company that is good for selling insurance may not be good for selling software. Do your homework and partner with the right telemarketing services.
Few results: Aiming at the wrong target will not get you anywhere. You may be calling a long list of people, but you will only get a limited result.
Misunderstanding common advice: Outbound telemarketing companies will have well-trained people, but make sure they know your product or services inside and out. Equip your people with the product knowledge that is vital for pre-qualifying leads.
Generating leads through outbound calling can help you get a good grip of the sales funnel. As a business owner, just make sure that you are tapping the right talents and spending just the right amount of resources to make it a win-win solution for your company.
Ready to Compare Outbound Telemarketing Services Price Quotes?