What Is an Outbound Call Center and How Do You Choose One?
Choosing an outbound call center is an important business decision. You want to make sure you select the facility that best aligns with your company's goals and meets the needs of your consumers.
What Is an Outbound Center?
An outbound center is one in which call center agents phone consumers on behalf of your business. Types of outbound calls, or calls the agents initiate for you, include telemarketing, sales, surveys, and updates to client directories.
Centers assess agent success using measurements such as the amount of revenue an agent generates, the cost per call, or the number of calls made within a certain period. The center analyzes numbers as they relate to your business's goals and strategies to achieve the goals.
Outbound call facilities differ from inbound ones. At an inbound facility, customers or employees on behalf of customers place the initial call to the center. Measurements of success differ from outbound. One metric is average handle time or length of call from start to finish.
Selecting an Outbound Call Center
There are several factors you should consider when choosing a customer call center. First, compare outbound centers to select the one that most effectively represents your company. Remember that the call agent operates as the face of your business. An agent that relates to the consumer and offers a high level of service can increase consumer brand loyalty and drive sales.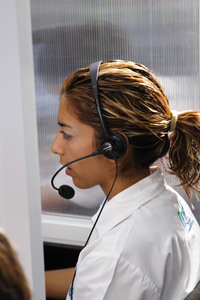 Along with service quality, another consideration is how well the call center agents will perform on metrics such as revenue generation. Ask the facility for statistics of past performance with other companies to evaluate its record of accomplishment and predict success level with your business.
If you choose a call center with experience in your industry, agents are already familiar with client characteristics. On the other hand, do not write off other centers that excel in other industries, as they may be able to cross sectors effectively.
Select an organization that meets your business's technical requirements, as well. While telephones are a primary way for agents to reach consumers, many centers now use additional methods, such as email, text messages, and social media networks. You can use live agents or instead use automated outbound interactive voice responsive surveys, depending on your consumers' needs.
Cost is another consideration. The intention of call centers is to reduce your business costs and let employees focus on other tasks. Determine whether a particular facility can meet your budget and weigh the potential savings.
If the call center is affordable upfront with high probability of agent success, it is likely a good fit with your business goals. Learn the style of an outbound call center to determine which one is best for your business.
Ready to Compare Outbound Telemarketing Services Price Quotes?