Inbound or Outbound: Making the Right Call on Call Centers
The difference between inbound and outbound call centers is defined by who initiates the call. If you are operating a small- to medium-sized business, you may have a single call center dedicated to both types of calls. Larger advertisers or corporations may use separate call centers for each type of telephone support.
Inbound Call Centers
An inbound call center answers calls that customers place to the company. Service agents may interact with customers by phone, live chat, or email. This type of call center typically deals with: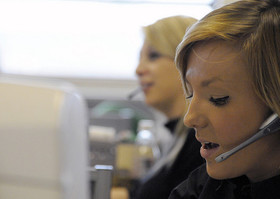 Customer service
Claims processing
New applications
Taking orders
Technical support
Help desk
Troubleshooting
Billing inquiries
Product information requests
Outbound Call Centers
In an outbound call center, agents initiate calls to prospects or existing customers, and work from a script to promote products or services. Telemarketing is one of an outbound call center's main functions, and there are many companies that offer great service and insight to help your company's telemarketing efforts.
Credit management is another service that can be turned over to an outbound call center. Instead of handling calls regarding late payments in-house, call center agents can look after this necessary part of keeping accounts receivable on track.
Other functions outbound call centers handle very well are verification and surveys. The centers are a highly effective choice for insurance or employment verification. If you want to conduct market research or a follow-up survey after a new product launch, outbound call centers are equipped to handle a large volume of calls and record the results for analysis.
What the difference between inbound and outbound call centers mean for your business
Both inbound and outbound call centers can have a role to play in helping to increase sales. Typically, when a customer initiates a call to an inbound call center, they have a question or a concern. Having agents who can exercise patience and creativity to respond to queries effectively and appropriately adds to customer satisfaction, and may increase sales. Every interaction with a customer brings with it the opportunity to up sell a product or service, and grow your business.
Outbound call centers can also help increase sales by booking appointments for outside sales representatives with prospects. Since the customers are not expecting the calls, this is the more challenging way to increase sales, but a systematic calling campaign can pay off over time. Both types of call centers have a role to play in helping to increase sales and foster customer loyalty.
Ready to Compare Outbound Telemarketing Services Price Quotes?