Trade Show Backwall Displays Make Your Business Stand Out
When you're looking for ways to separate your business form the competition at your next trade show, you'll need to invest time and resources in attractive, high-traffic booths and exhibits. Trade show backwall displays are one element of the booth design that can transform a good visitor experience into a great one. These displays are relatively easy to assemble and can enhance your company's brand and message with eye-pleasing, high-impact designs.
Types of trade show backwall displays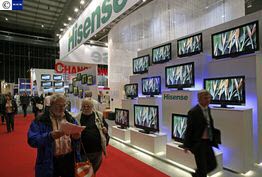 Tabletop displays. The simplest and most inexpensive trade show display option, designed to sit atop any table, a table top display may be made from a banner or stretched fabric. Prices start at close to $100, up to $400 for a more detailed graphic display.


Fabric one-sheet displays - Printed fabric designs are created with vivid colors and graphics and stretched out tightly to create a smooth surface. These types of displays are both attractive and fairly durable. Fabric displays offer the fastest setup and teardown time, starting at roughly $750.


Modular displays - Modular backwall displays can be made with fabric, plastic, or other innovative materials and add a three-dimensional effect to your exhibits. These displays can be designed in several styles and shapes to create a unique focal point for your booth; styles may include a modular display booth, standing kiosk, or counter display. Prices range from $400-$2000.


Pop up displays. A pop up display, available as a booth, tabletop, oversized, or plush model, will catch the attention of any passing customer at a trade show. Pop up displays can be further customized with strategically placed floodlights and may start at $400, up to $4000 for oversized displays.


Vertical curve or wave displays - These types of fabric displays are designed for companies that want to showcase large graphics or logos, and position themselves as the center of attention of the trade show. Curve displays are also portable and easy to set up and disassemble. Wave displays can add more dimension to small, often cramped trade show exhibit space, priced at $1295-$4000


Truss system displays. A truss system display is equipped with a sturdy frame to hold interchangeable display panels, meaning that a single truss system can be used for multiple trade show exhibits. Available styles include display booths, aisle exhibits, and island booths, ranging from $1700-$6600.
Selecting the best trade show backwall display
When it's time to compare different types of available trade show backwall displays, you need to consider multiple factors, like:
Space requirements
Company budget
Resources for setting up and taking down the booth and displays
Space requirements are often the biggest challenge for exhibitors, so finding customizable displays is essential. Whether your backwall display is made with fabric or plastic, you must select a size that fits most standard exhibition spaces so you can meet trade show guidelines and reuse the display for different events.
Your trade show budget will also play an important role in your selection process - you may need to negotiate with the vendor to find the best match at the right price. If you're a new client, ask about discounts or special promotions since they're more likely to accommodate your request to retain your future business.
Finally, consider the set up and take-down procedure for your backwall display. Some displays can be set up in less than one minute while others require some patience and considerable manpower to assemble. Consider your resources when you're looking at larger, more complex styles and designs.
Ready to Compare Trade Show Displays Price Quotes?