Attract Visitors with Outdoor Trade Show Displays
Outdoor venues brings lighter weight but sturdy materials that are designed for easy setup and breakdown as well as portability. Since outdoor venues bring different variations in booth size as compared to standard trade show floors, it's important to use the flexibility for the actual branding placement that outdoor displays bring.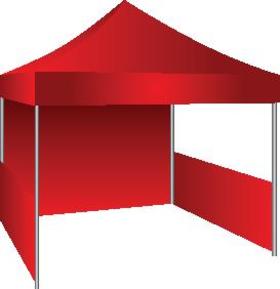 Material
From construction materials to higher quality graphics printing, every aspect of an outdoor display needs to be taken into consideration, as they have to stand up to outdoor weather conditions while retaining that new look.
Most quality manufacturers use digital printing on vinyl coated polyester for outdoor displays as opposed to screen printing on lighter fabrics used for indoor venues. Vinyl coated polyester can be wiped clean using dish soap and water without losing the graphics resolution. Metallic stands and frames are made with steel with a powder coated finish to deter the effects of wind and rain and are easily cleaned to return the luster.
Weather
The first thing you will need to think about is the fact that outdoor events involve bright sunlight, making a tent or canopy a must-have. Today's canopies and tents bring an array of choices that allow your branding to be presented in quality colors. For instance, canopies can either be three-sided (with an open back) or four-sided (covered back). Exterior branding will draw the eye of the attendees and are more inviting to your booth area, and it's always recommended to have roof or top branding with your logo or slogan.
Printing for canopies and tents are often full dye sublimation or custom imprint, which are better for sun and weather conditions. The outdoor canopy gives you an open forum to set up tables or cases to display products, room to locate pop-ups for eye catching attention and the reps to talk to the attendees.
Canopies and tents come in standard 10'x10', 10'x15' or 10'x20', but larger options are available through the manufacturers. Deluxe models may include an easy crank ability for effortless extension. Other variations can include:
Zippered walls
A top flag mount kit
Wallast weights to offset higher wind conditions
Each of these aspects are worth the additional investment to keep your outdoor display intact as well as easy assembly during questionable weather situations.
Portability
Indoor trade show displays typically fold up and are reduced to sizes that fit in canisters or containers for shipping. Outdoor displays breakdown and foldup into softer and lighter containers with wheels or rollers. While they can be shipped, they are designed to be loaded up and transported.
Installation
Outdoor display manufacturers know that the venue flooring is different from a standard indoor show. To avoid setting up on grass, dirt or non-level concrete, many of the manufacturers offer special flooring and carpet styles that are easily rolled up and packed away. The flooring can also be branded with your logo, which adds an additional warm touch to your booth.
Uses
Outdoor booth displays are typically used for fairs, markets, organizational events, school events and even as an extension to traditional indoor trade shows. Some events may include a tent or canopy as part of the standard package or for an extra charge. While this might be a bit of a savings, these will not have your branding and could reduce the traffic to your booth due to generic appearances.
Pricing
Outdoor displays offer cost-effective positives. The beauty of the outdoor display is in its versatility. If you have a combination of show types, both indoor and outdoor, you can use an outdoor display for an indoor booth, when necessary. Pricing, depending upon your customization needs, can run from $400 to over $700.
From pricing to portability, setup to breakdown, outdoor trade show displays bring a lot of flexibility to represent your organization and brand and they can encompass the rigorous needs of multi-venue requirements.
Ready to Compare Trade Show Displays - INACTIVE Price Quotes?